Retail Sales Hit Pre-Recession Level in November
American consumers are definitely beginning to spend again. In November, retail sales rose 0.8% to $378.7 billion, according to the Census Bureau. On the heels of an upwardly revised sales increase of 1.7% in October, sales are now the highest they've been since before the recession began. And if the trend continues, they'll easily set a new all-time high in December.
Here's the historical chart for sales since 2000: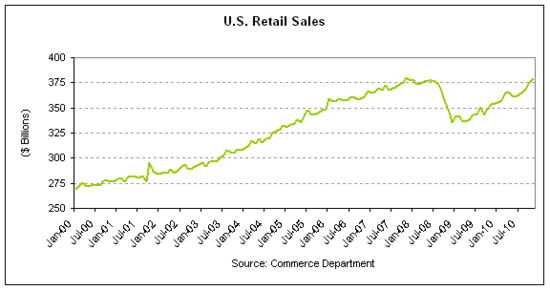 It's easy to see how sales plummeted during the recession and have steadily risen since early 2009. What's a little harder to see is that November had the second-best sales tally, ever. Only November 2007's sales were higher. The recession is defined to have begun the following month.
In fact, sales don't have to rise much to hit a new all-time high. In November, they were just $1.3 billion below their 2007 peak. To put that into perspective, sales have risen by at least that amount every month since July. In November, they rose by $3.1 billion. If holiday sales are strong in December, then we'll see a new high mark.
Here's the breakdown for specific segments of retail sales: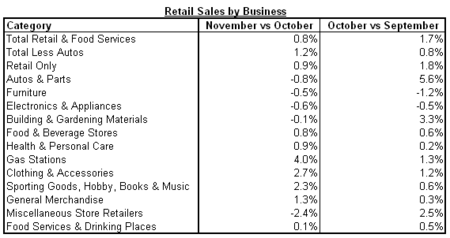 Remember, October was an incredibly strong month, so it isn't surprising to see some segments grow at a slower pace in November. The most notable difference is auto and parts sales, which went from a 5.6% increase in October to a 0.8% decline in November. Furniture and electronics are two segments that have seen weak sales over the past two months, while most other parts of the market are growing.
Some of this increase is likely due to prices rising, however. You can see that gas stations and food and beverage sales both rose strongly, and prices for those goods also likely increased significantly for consumers in November. But tomorrow we'll get a better idea of how much inflation contributed when the consumer price index data for November is released.
But November's rise in sales definitely can't be entirely based on inflation. Segments like clothing, sporting goods, hobby, books, and music also saw better sales. And even if prices are rising, it's pretty clear that consumers aren't cutting spending as a result. Instead, they're spending more than they have throughout the recession.