November Auto Sales Soar Over 2009
November was much kinder to auto dealers this year than it was in 2009. Vehicle sales were up 16.9% year-over-year for the big seven auto companies, including GM, Ford, Toyota, Honda, Chrysler, Nissan, and Hyundai. That's quite an improvement, though sales were down 8.5% from October. While sales were generally pretty strong last month, there were some clear standouts within this universe of automakers.
Here's a chart showing vehicle sales growth in November: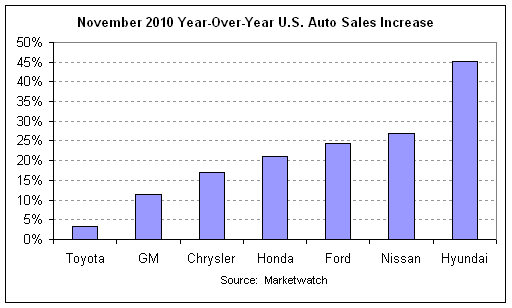 Obviously, no one came close to Hyundai's growth. It experienced a 45.2% increase in vehicle sales. Nissan was a distant second, with its sales rising by 26.8%. Meanwhile, Toyota barely managed to improve its sales, with a relatively tiny 3.3% increase year-over-year.
Yet the automakers' performance compared to October was far less impressive: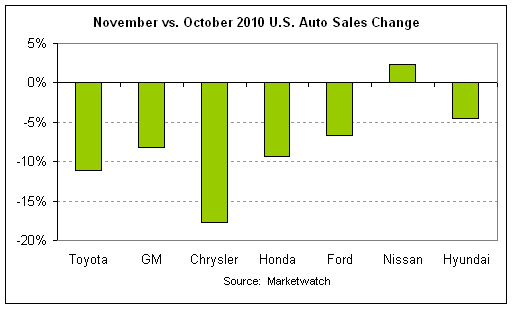 Just Nissan managed to sell more vehicles in November than October. Chrysler, however, saw a huge month-over-month dive, down 18%.
Even though all automakers did better in November 2010 compared to 2009, some did better than others. That means their market shares shifted a bit: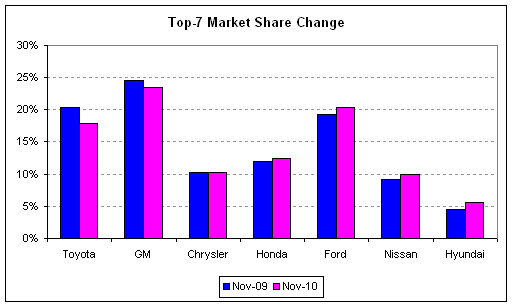 Toyota gave up a significant 2.4% of its vehicle sales share within this universe of seven. Meanwhile, Ford and Hyundai each added to their shares, up 1.2% and 1.1%, respectively. Here's how the market share breaks down now, as of November 2010: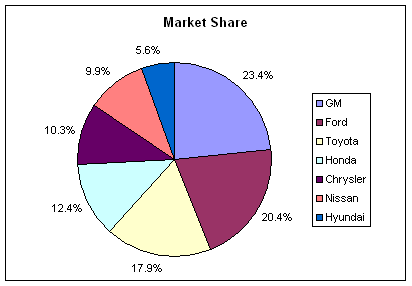 Overall, it was a solid month for auto sales. Still, a few automakers, like Toyota and GM, might need to do some soul searching to figure out how Hyundai, Ford, and Nissan are growing more rapidly and gaining market share.
(Source: Marketwatch - Toyota, GM, Chrysler, Honda, Ford, Nissan, Hyundai)