New Homes Lead Construction Expansion in October
After a brutal summer, it appears that the construction industry is beginning to improve, slowly. Construction spending increased by 0.7% in October, matching its rise in September, according to the Census Bureau. That isn't much and spending remains near its decade low, but two months of growth is certainly better than the two-month slide in July and August.
Here's the chart since 2000: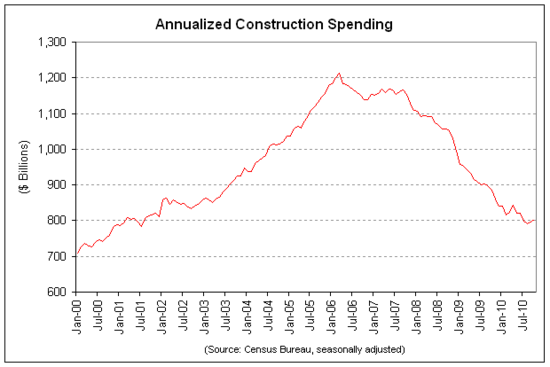 You can see that construction spending has a very long way to go before it returns to anywhere near the trajectory it was on even from 2000-2001.
There are a few interesting things to note about October's performance. First, private construction led the increase. It was up 0.8%, while public spending was up only 0.4%. So the rise in construction can't be blamed on the government.
Moreover, home construction is growing while businesses are pulling back their spending. Residential construction spending rose by 2.4%, while nonresidential fell by 0.1%. Within the private sector those numbers are even more pronounced at a 2.5% increase and a 0.7% decline, respectively.
It's curious that spending on housing construction has grown over the past few months, considering the huge inventory of existing homes. One explanation could be that some buyers are shunning foreclosed properties and short sales due to the documentation problems with which that banks are grappling. Instead, new homes might be seeing enhanced demand, while interest in existing structures is declining. Since there's plenty of existing inventory out there to satisfy most buyers for quite some time, however, additional construction really just delays the market's recovery.