New Home Sales Up 5.5% in November, but Still Very Low
Like existing home sales, new home sales rose in November. They were up 5.5% during the month, according to the Census Bureau. That puts the annualized rate of sales in November at 290,000. This is an improvement over October's 10.7% dive, but is still very, very low.
Here's the chart: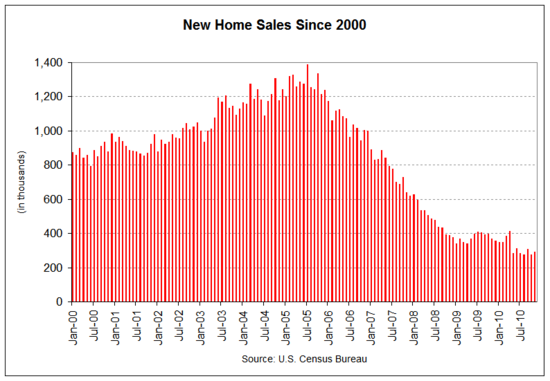 Today's data also included a few revisions to prior months' sales tallies. August rate of sales was reduced slightly from 275,000 to 274,000. That might not seem like a big difference, but it's worth noting because it sets the new low for new home sales on record. October's revision was more significant. It corrected the rate of sales to just 275,000 from the original estimate of 283,000. That means October very nearly matched the all-time low hit in August.
It's important to keep in mind how low sales were in October to put November's 5.5% increase in context. If October's original sales rate hadn't been revised, November's increase would have been just 2.5%. Moreover, November's rate of sales is the fifth lowest on record -- which has been kept since 1963. Considering all of that, it's pretty hard to get excited about new home sales increasing a little in November.
The continued weakness in the market for new homes shows that home buying appetite remains extremely weak, particularly for new construction. And that makes sense. For the few people out there who are interesting in buying a home right now, there is plenty of existing inventory to choose from, which might also provide deep discounts if the distressed properties are sought. Until foreclosures slow, existing home inventory declines, and unemployment ticks down, new home sales will have trouble recovering.