Most Americans See a Distant Housing Recovery
The housing market has changed a lot in the past six months. Sales plummeted when the home buyer credit expired. Then foreclosuregate struck, slowing seizures and clouding the buying process with greater uncertainty. Although the housing market already seemed to be on a slow road to recovery, these setbacks appeared to prolong the sector's misery. A new survey by Trulia, a major homebuyer website, and RealtyTrac, the leading online marketplace for foreclosures, reveals that most Americans don't expect the housing market to recover for years.
In fact, 58% believe that the recovery won't begin until 2013 or later. Here's the breakdown: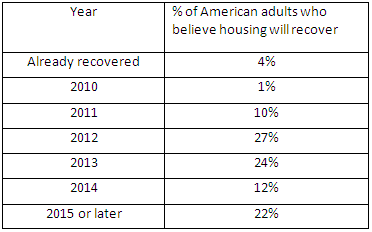 As you can see, a very small portion -- just 15% -- think that the recovery will occur by next year. This implies that housing market sentiment will be quite weak throughout 2011.
The survey also revealed how borrowers views on foreclosure and mortgage modification have evolved. When polled in November, 48% said they would consider walking away from their home if their mortgage was underwater. That's up significantly from 41% in May -- just six months earlier. Yet an overwhelming two-thirds would consider trying to modify the mortgage of their primary residence with their lender if unable to make their payments. This shows that Americans generally do want to stay in their homes -- as long as their mortgage isn't underwater.
Finally, despite foreclosuregate, interest in scooping up a deal on a foreclosure has actually increased since May. As of November, 49% are at least somewhat likely to consider purchasing a foreclosed property, up from 45% six months ago. Yet Americans' attitudes about foreclosures are complex. Despite around half saying they would consider buying a foreclosed property, 81% believe there are downsides with such a purchase.That likely means a deep discount will have to be present to overcome their worries.

In short, few expect the housing market to recovery quickly. Since more people would consider walking away now than six months ago, strategic defaults might not decline much either. But the good news is that Americans continue to become more comfortable with the idea of purchasing a foreclosed property, which means that defaulted properties won't pose a much greater challenge to sell than other homes.