Manufacturing Profits Climb Past 2008 Levels in 3rd Quarter
The U.S. manufacturing industry continues to slowly recover from its recessionary slump. In the third quarter, after-tax profits hit $122.7 billion, according to the Census Bureau. That's an increase of 4.3% compared to the second quarter, and 29.8% compared to a year earlier. Does this mean the sector will ramp up its hiring?
Here's a chart showing how manufacturing profits have changed since 2006: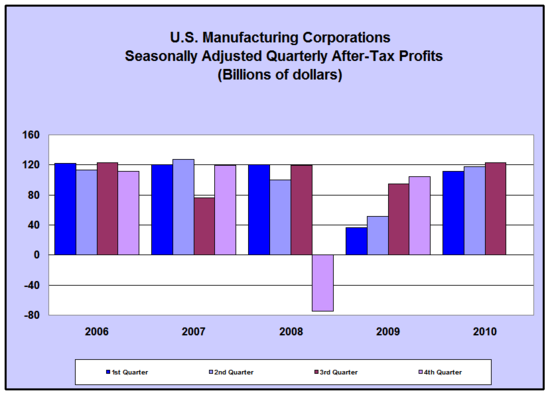 As you can see, third quarter profits were pretty strong -- the best since 2007. In fact, the second quarter of that year was the only one that had higher profits than the industry took in last quarter.
This strong performance appears to be due in part to tighter cost controls, however. Sales were $1.44 trillion. That's not bad, but it's only the 11th best tally since 2006. So sales are steadily rising, but they aren't that close to the $1.69 trillion high from 2008.
The conclusion here is pretty clear: we should take the third quarter's results as an encouraging sign, but not a verdict that the manufacturing industry is fully healed. High profits aren't enough to ensure that hiring will ramp up aggressively. Demand is still relatively weak, as manufacturing sales are still 15.3% lower than they were two years ago. As better sales continue to gradually return, more hiring will follow.