Leading Indicators Show Recovery on Firmer Ground
In another dose of good economic news, the Conference Board's Leading Economic Index is beginning to climb again. It rose by 1.1% in November, which was the biggest increase in months. The trend's shape is also beginning to resemble the recovery's steep trajectory before the summer slowdown. And the best part is that important components of the index are driving the increase.
First, here's the chart: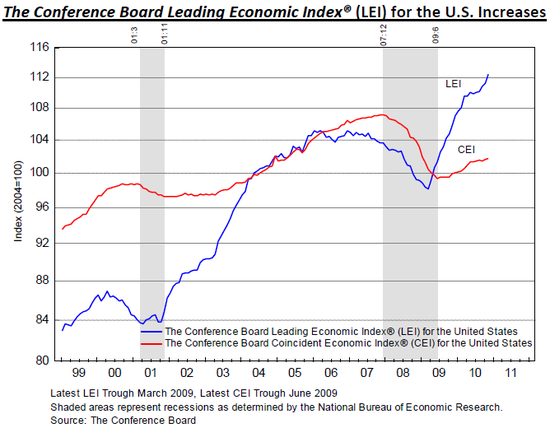 You can see how the LEI (blue line) was rising steeply from late 2009 through early 2010. Then it flattened out during the second and third quarters of this year. Now it's increasing rapidly again, as it was before the slowdown. It's been rising at a decent clip for three months now, though November's increase was bigger than October's rise and November's rise combined.
While this big jump is great, it looks even better if you consider why the index is rising faster. In the past few months, the biggest positive contributors have been interest rates and money supply, both of which are controlled by the Federal Reserve. In other words, the positive movement in the LEI was mostly driven by monetary policy instead of tangible economic improvement.
But in November, supplier deliveries provided the biggest positive contribution to the index, accounting for 0.43% of the 1.1% increase. This means vendor performance is improving, after worsening the four months of the five months prior. The next biggest contributor was still interest rates, however, contributing 0.27% of LEI's increase. They will probably help less significant in December, as interest rates have been rising over the past several weeks. But the third biggest positive contributor was unemployment claims, which have been declining recently. Their results pushed up the LEI by 0.18%.

In fact, of the 10 indicators that the index tracks, the only one with a negative contribution was building permits. It pulled down the index by 0.11%. That isn't likely to get much better either, since the real estate market has further to fall before it recovers. But November's LEI implies that even with a weak real estate market the economy can recover.