Is the Housing Market on the Verge of a Rebound?
The foreclosure mess might not be scaring off that many prospective home buyers after all. Pending home sales jumped in October. The National Association of Realtors Pending Home Sales Index increased by an impressive 10.4% during the month. Even with this rise, however, demand remains relatively weak.
Here's the chart: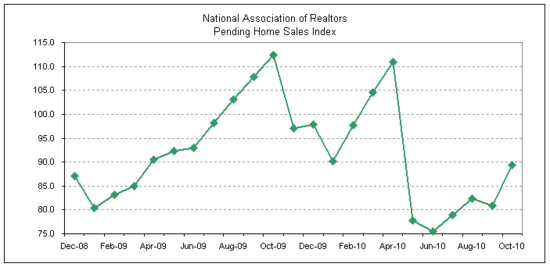 After a small tick down in September, pending sales rose steeply in October. In fact, over the period shown in the chart above, there's no monthly increase as great.
Even with this huge bump, however, pending sales still remain below any level between April 2009 and April 2010, when the buyer credit was in effect. But October's data does provide some reason for optimism. Weak sales completed were thought to be caused in part by prospective buyers being scared out of the market by the foreclosure procedure and documentation mess. Yet, the pending sales results indicate that lots of Americans were still willing to enter into new contracts during the month.
If housing is, indeed, beginning to recover somewhat despite foreclosuregate, then this is especially good news for the economy. As noted yesterday, housing was pretty much the only dim spot in an otherwise great month for the U.S. economy in October. Even if demand doesn't approach astronomical levels, a relatively healthy number of sales may be enough to keep the broader economic recovery moving confidently in the right direction.