How to Succeed in Exports By Really, Really Trying
Two companies' struggles -- and successes -- explain the fundamental challenges of US exports
The big non-tax story of the day is that US exports rose to a two year high in October on the back of strong demand from emerging countries like China, India, and Brazil.
This might sound like small potatoes, but it's a big deal for an economy recovering from a recession exacerbated by the weak position of US consumers. When US consumers aren't spending like they used to (and they aren't) we need foreign consumers to spend more than they used to (and they are). That means ramping up our exports of both goods and services -- high-tech machines and high-quality consulting.
I wrote the following column on US exports for a December 11 magazine supplement produced by The Atlantic and National Journal on the future of the US economy. If I can sum it up in one portable lesson for US policy makers, it's this: "The United States exports less
than Germany while it manufactures more. The U.S. government offers less financial support for exports than Canada's does, despite greater exports of goods. And Washington applies byzantine rules to monitor specialized products, even though the nation's competitive edge lies precisely in those specialized wares that only Americans have designed and built."
Here is the column:
There was no way that Mark Rice could have known that the next e-mail he opened would change his business and his life. It was 2003, and somehow the world's largest shipbuilder (based in South Korea) had discovered Rice's small ship-manufacturing firm (based in South Baltimore) over the Internet. Hyundai Heavy Industries wanted his 30-person company--Maritime Applied Physics Corp., or MAPC for short--to build a specialized rudder that would instantly double his business.
Rice was honored. He was also, by his own admission, "wandering around in the dark trying to find trees." He didn't understand international business customs when he arrived in Korea on a typhoon-delayed flight. When he prepared the bid, Rice didn't understand licensing rules and inadvertently violated U.S. export law. Then, with the deal nearly complete, his bank said that the project was too risky and demanded that the company immediately repay its credit line.
Even with the best rudder in the world, MAPC still faced daunting hurdles that nearly killed the multimillion-dollar deal. Once you understand where Rice went wrong--at the bidding level, the finance level, and the export-control level--you also begin to understand some of the barriers that U.S. exporters face. The nation's trade challenge is not merely an issue of high domestic wages and voracious American consumers--although those matter, too. It is a question of commercial culture. The United States exports less than Germany while it manufactures more. The U.S. government offers less financial support for exports than Canada's does, despite greater exports of goods. And Washington applies byzantine rules to monitor specialized products, even though the nation's competitive edge lies precisely in those specialized wares that only Americans have designed and built.
AN UNDERDOG OVERCOMES
The obstacle course for exports looks daunting for small, inexperienced companies such as MAPC, but it isn't prohibitive. Rice ultimately found a bank, secured financing, won the bid, and doubled his business.
The Korean deal changed MAPC. It also changed Mark Rice. He became passionate about overseas trade and the promise it held for other small firms around Baltimore. With the help of Bill Burwell at the Commerce Department's Export Assistance Center, he designed a seminar to teach tech-savvy companies to follow in his footsteps--without mimicking his mistakes.
"Mark had the intellectual foresight to see a teaching opportunity," said Burwell, director of the center's Baltimore office. "Based on his experience, he helped us craft the first offering of ExporTech," a three-day seminar for executives on how to write an export business plan. In Maryland, it was an instant hit. Today, ExporTech has been replicated in at least 19 states and has assisted more than 300 clients. Even the federal government took notice, authorizing $11 million for the program in small-business legislation enacted in September.
"We made every mistake you could make in Korea, and we didn't want other companies to do the same," Rice explained in his office by a wind-whipped Baltimore pier that once bustled with shipbuilders. "I guess we succeeded because we were naive."
"But we were successful," interjected Jim Chafe, MAPC vice president. "That's the difference between naiveté and gumption."
HEAVY INDUSTRY, HEAVY RULES
A company that won't need help from ExporTech is Bucyrus International, a mining-equipment manufacturer in South Milwaukee, Wis. A century after producing three out of every four of the steam shovels used to build the Panama Canal, the Fortune 700 company has become one of the world's largest designers and builders of 30-foot, 500,000-pound steel contraptions that dig into the earth.
It's boom times for international mining, now that the world's fastest-growing countries--Brazil, China, India, Indonesia--are simultaneously experiencing urban industrial revolutions. "You have billions of people demanding not only new buildings and cars, but new water heaters, cell phones, and air-conditioner units," Bucyrus CEO Tim Sullivan said. "To make these things, you need iron ore, manganese, coking coal, copper." Bucyrus makes the machines that unearth those commodities.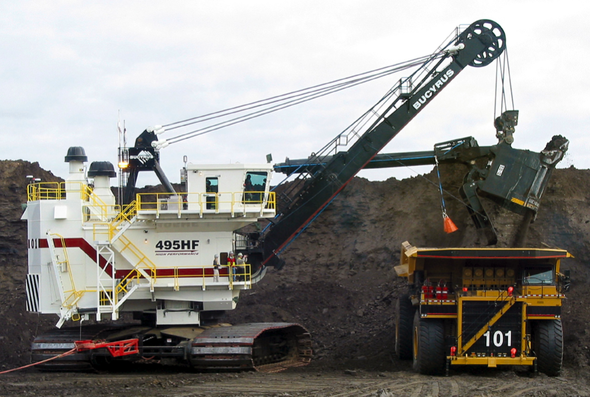 Once a purely domestic juggernaut, Bucyrus is doing a flourishing business overseas. Like MAPC, it faced challenges that showcase the ways U.S. export rules can work for and against American companies. Last summer, Bucyrus reached out to the Export-Import Bank, a federal agency that helps to finance overseas sales for U.S. companies. Ex-Im Bank objected to Bucyrus's $600 million deal to sell equipment to a power plant in India on the grounds that it violated the agency's strict environmental standards. The decision caused a to-do at Bucyrus, until all-night negotiations and pressure from Congress persuaded the bank to accede.
However, with mining bids pending in India and South Africa, Bucyrus is still at the mercy of the agency's environmental standards and its slow processing of loan applications.
"I have no problem with establishing environmental benchmarks in lending policies, but those policies should not disenfranchise U.S. manufacturers," Sullivan said. "I don't know the internal mechanics of [Ex-Im Bank's] underwriting process, but it takes them two to three times longer to process loan applications in comparison to their foreign competition." The wait, he said, can take up to six months.
BANKING ON EXPORTS
That's not just bitterness talking. A wide range of experts, from business executives to think-tank analysts, say the same thing: Ex-Im needs to do more, faster. Frank Vargo, a vice president at the National Association of Manufacturers, noted that the agency guaranteed $21 billion of U.S. exports in 2009, a fraction of its Canadian counterpart's $80 billion in a smaller economy. "The Japanese," he said, "did well over $100 billion."
Ex-Im Bank's role is crucial in lending money to importers overseas and in helping firms on both ends of the deal secure cheaper loans. Charles Tansey, senior vice president at Ex-Im Bank, acknowledged that the agency's limited staff hurts its ability to process applications quickly. Caution is also necessary, he said, to protect American taxpayers from heavy losses. Still, more government-backed financing would mean more U.S.-made goods sold overseas.
"We need the financing process to be quicker," Bucyrus's Sullivan said. "It's this simple. We need to be faster too if we want to be more competitive."
Photo courtesy of Bucyrus, Inc.