Housing Starts and New Permits Remain Weak in November
As the housing market continues to sputter, new construction has been very slow. Although housing starts rose 3.9% in November to 555,000, they didn't nearly overcome the 13.0% decline experienced over the two months prior. The Census Bureau also reports that new permits, which are more of a leading indicator, fell by 4.0% last month. The new home construction market remains relatively lifeless.
Here's the chart for starts, which is a measure of the number of new homes were ground was broken: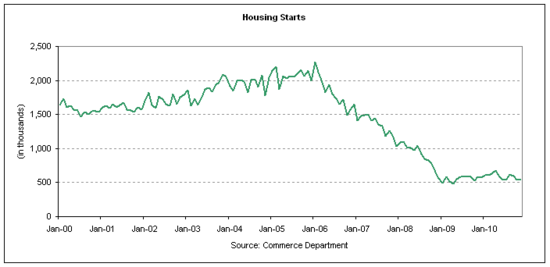 You can see that it has been relatively flat recently, as there's been little deviation from the 500,000's.
While it might seem that there could be reason to hope for a new trend here, given the small rise in November, the decline in new permits quickly quashes any optimism. Here's their chart: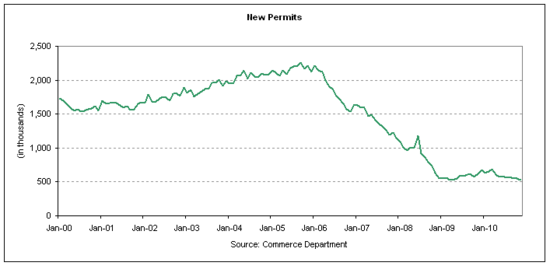 Their level of 530,000 is barely higher than the 522,000 low hit in March 2009. Similarly to what we saw with starts, there isn't much deviation from the low mark permits hit at that time. If anything, permits appear to be stabilizing around the 550,000 level.
As long as permits remain in this vicinity, it's not likely home construction jobs will rise much. Of course, the construction industry's woes are a silver lining for the broader housing market recovery. Less new construction will result in a quicker liquidation of the large existing home inventory by home buyers instead, which should result in the housing market hitting a bottom sooner.