Government Helps Boost Consumer Credit in October
Consumer credit rose at an annualized rate of 1.7% in October, according to the Federal Reserve. That might not sound like much, but it's the biggest monthly increase since July 2008. Yet this doesn't signify that lenders are extending more credit to consumers. Instead, this increase was based on new credit issued by the U.S. government.
To get a better understanding of how consumer credit has changed, here's a chart: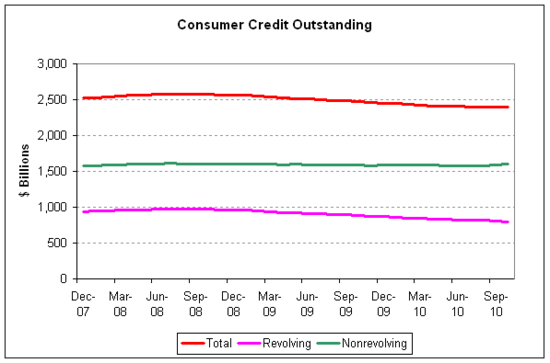 If you look at the past few months, you can easily see that the slight increase in total credit is being driven by nonrevolving credit. Revolving credit has actually continued to decline, now for 26 straight months. In October it fell at an annualized pace of 8.4% or $5.6 billion. Nonrevolving credit more than made up for that decline, however, since it rose by 6.8%, or $9.0 billion.
The major influence responsible for more credit is quite clear. Here's how the balances of debt held by various creditors changed since August, on an annualized basis: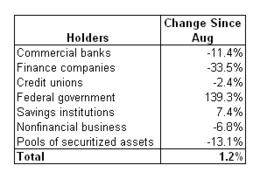 No, that's not a typo. Over the past two months, the government has been increasing its holdings of consumer credit at an annualized rate of 139.3%. Meanwhile, almost every other type of credit holder has shrunk its balances, except for saving institutions which increased their debt holdings by 7.4%.
So what exactly is the government backing here? It's all nonrevolving credit, since credit cards aren't in its portfolio. Of its nonrevolving credit holdings, loans backing purchases like cars and boats don't likely make up a big portion. Real estate is also excluded from the Fed's calculations. That leaves mostly student loans. The government is clearly ramping up its exposure to education loans very quickly as private lenders have mostly abandoned the market.
As you can probably guess, without the government's influence here, credit would have continued to decline over the past two months, instead of beginning to rise. And since education loans aren't as discretionary as credit cards, auto loans, or other consumer credit products, this implies that Americans and private lenders are generally still reducing credit. Revolving credit, in particular, has now fallen by 17.8% since it peaked in August 2008.