Government Foreclosure Prevention Shifts to Reducing Principal
Earlier this year, it became clear that the government's HAMP mortgage modification program wasn't preventing nearly as many foreclosures as it was aiming for. That was probably one of the reasons Treasury official decided to try a different approach. Rather than focus on just cutting interest rates and lengthening loan terms, it decided that reducing mortgage principal should also be a part of the equation. After all, with so many mortgages underwater, a large portion of borrowers may prefer to walk away instead of modifying their mortgage if their principal is left intact. A report released today indicates that the new initiative might be making progress.
Although HAMP reports have not yet revealed how well the principal reduction initiative is working, the Office of the Comptroller of Currency released its third quarter Mortgage Metrics Report (.pdf) today that provides some idea of the effort's progress. Here's a chart showing the type of actions taken by HAMP modifications by quarter: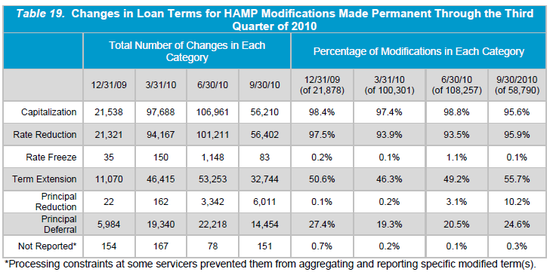 Focus on the "Principal Reduction" row. You can see how quickly this action has been growing. It has gone from just 22 principal reduction actions in the final quarter of 2009 to 6,011 actions in the third quarter of this year. In the second half the chart, you can see that the portion of modifications that included principal reduction has risen from 0.1% to 10.2% over this same time period.
Of course, 6,011 principal reductions isn't exactly a lot. The report indicates that 382,751 foreclosures were newly initiated during the quarter. But it's a start.

The report also shows that HAMP is favoring principal reduction more than other modification programs. In the third quarter of 2010, principal reduction was an action taken in just 4.5% of all modifications. That's less than half the rate it's being utilized by HAMP. And HAMP also makes up over half of the 10,581 principal reduction actions taken across all modifications programs during the quarter.
It isn't likely that the new principal reduction initiative will breathe new life into HAMP, since the pool of eligible applicants has already shrunk to a fraction of its initial size. But utilizing this action more aggressively going forward will more likely ensure that re-default rates are lower than they would have been otherwise. As mortgage principle is reduced, borrowers' mortgage balances will be closer to their home's value, which provides additional incentive to make sure they keep up with their payments.