Foreclosuregate Drives 21% Plummet in November Foreclosure Activity
Foreclosure activity fell by a dramatic 21% in November, according to foreclosure tracker RealtyTrac. This might sound like good news, but the decline is likely temporary. Banks slowed their foreclosures as they fixed their processes and procedures in response to the controversy that arose in October regarding their practices. So there's little reason to celebrate this result: they're just prolonging the inevitable for many homes facing default.
Here's a chart showing how foreclosure activity has changed since mid-2005, by activity type: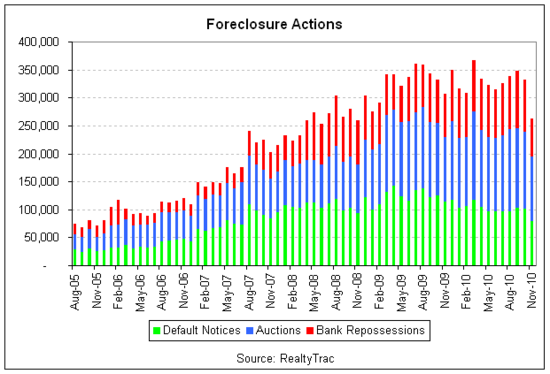 This shows what a huge drive foreclosures took last month, but the next chart better shows how each stage of foreclosure has declined: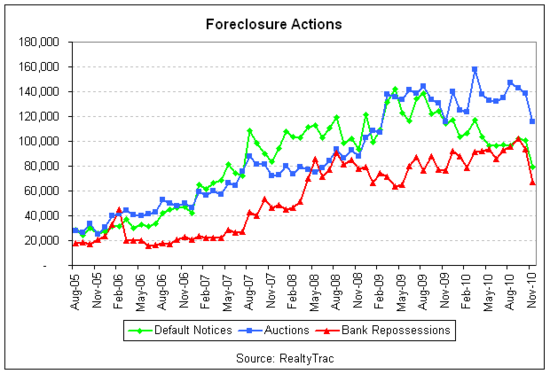 The biggest dip was in repossessions (red), which were down 28%. But even with this dip, they only sunk to just above their May 2009 level. Default notices (green) fell by 22%, while auctions (blue) fell 16%.
RealtyTrac CEO James J. Saccacio explains that this drop was mostly due to foreclosuregate:
While part of the decrease can be attributed to a seasonal drop of 7 to 10 percent that typically occurs in November, fallout from the foreclosure robo-signing controversy forced lenders and servicers to hit the pause button on many foreclosures while they scrambled to revamp their internal procedures and revise or resubmit questionable paperwork.
And consequently, we'll likely see these numbers rise again in coming months. In fact, they may hit record levels for a time if banks flood the market with backlogged foreclosures. But if they simply delay them all instead, then the amount of activity will just rise again to where it was before all their trouble began.