Existing Home Sales Up 5.6% in November
The housing market got a dose of good news today. Existing home sales increased by 5.6% to the annualized rate of 4.68 million sales, according to the National Association of Realtors. This is a positive development, as sales declined in October 2.2%. That approximately met expectations of a 4.66 million rate. Will sales continue to rise as the economy improves, or will rising interest rates kill demand?
Let's start with the chart: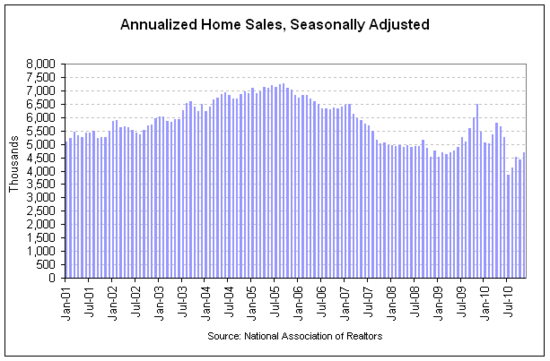 At the rate of 4.68 million, existing home sales were the strongest since June, when sales were still under the influence of the home buyer credit. As the chart shows, however, November's rate is still well below what was common even before the housing rally began in 2003.
With sales up, it makes sense that inventory would be down. It declined 4.0% in November. Here's the chart for inventory: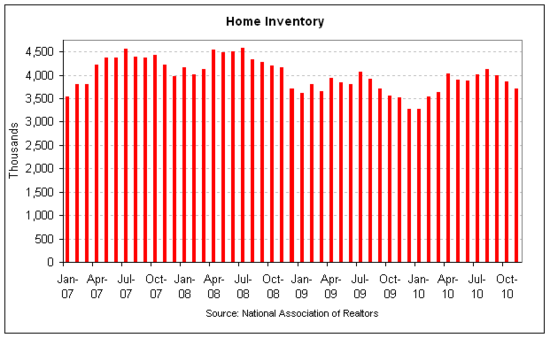 November's 4.0% dip was the third consecutive decrease, and biggest since December 2009. But it's probably a little premature to celebrate inventory declining, as sales are only part of the equation here. Foreclosures have slowed considerably and artificially due to banks revamping their procedures in response to foreclosuregate. So it's quite possible that inventory will rise again in coming months once repossessions ramp back up.
In light of the slowly recovering labor market, additional home buying demand makes sense. Of course, low mortgage interest rates also encourage buyers. And during the week of November 11th, they hit their lowest rate yet, with a prime, fixed 30-year mortgage at just 4.17%, according to Freddie Mac. They were relatively low throughout the month.
But in late November, interest rates began rising, and have continued to do so through December. As of the week ending December 16th that same prime, fixed 30-year mortgage interest rate was 4.83% -- an increase of 66 basis points since they hit that low in mid-November. These increasing rates will neutralize some of the stronger buying demand caused by the labor market's improvement.
Or you could see the opposite. If those mulling a home purchase fear that interest rates are quickly rising, it may result in a rush to buy now, while rates are still relatively low. Unfortunately, the data so far in December suggests otherwise. Mortgage applications are down 18.6% this week, hitting their lowest level in about a year. This shows that, as rates rise, the housing market will have even more trouble recovering.