3rd Quarter GDP Revised Up Very Slightly to 2.6%
The U.S. economy grew at a pace of 2.6% in the third quarter, according to the Bureau of Economic Analysis' third and final revision. This boosts the number upward slightly from the second estimate of 2.5%. But really, the change is more one of rounding, as it technically only changed from 2.53% to 2.56%. Although the final number barely moved, some of its components varied from estimate to estimate. This shows that some parts of the economy did a little better than we thought, while others did a little worse.
Before getting into any analysis of today's report, here's the historical look at GDP growth: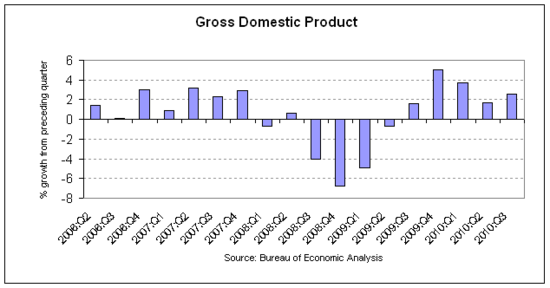 While 2.6% isn't particularly robust, it's certainly better than the second quarter's 1.7% growth rate. It did, however, miss expectations. Analysts expected GDP growth to be revised up to 3.0%.
Since today's revision doesn't change headline GDP much, the narrative is similar to that told for last month's revision. Personal consumption, private investment, and government spending all rose a little, while net exports continued to contract for the third-straight quarter.
But looking a little deeper at those components, you find some changes in the final revision. First, however, let's get out of the way what didn't significantly change: government spending. It was measured pretty accurately last time around. Net exports also changed very little, actually adding another 0.06% to GDP growth.
Consumer and business spending did change a little more significantly. Personal consumption added 0.30% less to GDP growth than it did in the second revision, while business spending added 0.29% more.
Within personal spending, consumers bought $4.6 billion more goods than we thought, but spent $13.6 billion less on services. The two components of services mostly responsible for the decline from last revision were health care and financial services spending.
For business spending, the additional growth can be explained almost entirely by inventories. Firms spent $9.9 billion more increasing their inventories than the first revision accounted for.
Essentially, consumers spent a little less than we thought and businesses spent a little more. But in general, the economy grew at about the pace that we anticipated a month ago. The U.S. has now experienced five straight quarters of economic expansion.