The Slow Recovery Continued in September
Reviewing the month's results shows that the U.S. economy continued to grow, though weakly.
From an economic standpoint, September was a fairly uneventful month. The U.S. economy lost a few more jobs and housing continued to struggle, while most other indicators continued to slowly improve. The month's results strengthen the narrative of a very slow recovery for the nation. This is easily confirmed with a roundup of major economic metrics for the month.
Here's our matrix of various significant indicators for September. Remember, this is just a qualitative representation (see end of post for disclaimers):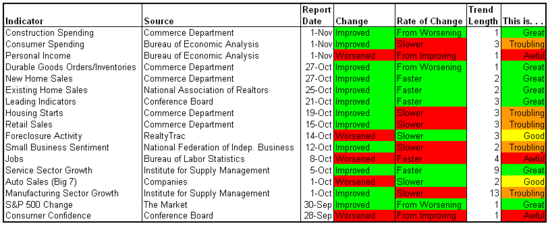 In fact, September looked quite a lot like August. In both matrices the green overshadowed the red, but neither month was completely green throughout. That indicates that a weak recovery continues, as the indicators move sideways with the economy slowly growing. Here's a comparison of the indicators for those two months: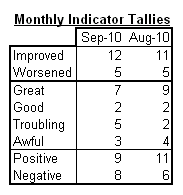 So August was slightly better overall, but slightly worse if you look at trends. That's mostly due to more "troubling" grades. But this simplistic scoring can be a little misleading. This result occurs when an indicator improves, but more slowly than it had in the prior month. In fact, for some of those items, the improvement was still rather strong, even if less aggressive than in August. One example of that is retail sales, which grew by 0.6%. That's pretty brisk, though not as high as August's 0.7% rise.
Yet several of these indicators that appear positive were very, very weak on a historical basis. Pretty much all real estate-related measures fall into that category, including new home sales, existing home sales, and construction spending. While these may be heading in the right direction, they're moving very slowly.
This matrix also misses GDP, which grew by 2.0% in the third quarter. Since that is reported quarterly, it's hard to work into this month-to-month review. While also somewhat lower than we'd prefer, it supports the assertion that the U.S. economy is slowly growing.
Disclaimers about the matrix:
This is by no means a completely exhaustive list, but it does take into account many important statistics.
It represents more of a qualitative summary, however, since it just considers directional movement from month-to-month, rates of change, and trends.
There is some overlap.

Also, here's a list of posts that covered some of these September indicators:
Construction Spending Flattens Out Near Decade Low
Income, Spending, and Saving Struggled in September
New Home Sales Rose 6.6% in September, but Remain Low
Home Sales Up 10% in September
Leading Indicators Continued to Rise in September
Housing Starts Beat Expectations Again in September
Retail Sales Rose Again in September
Home Seizures Exceeded 100,000 in September
Small Business Embodies the Painfully Slow Recovery
Jobs Decline Again in September With Unemployment Steady at 9.6%
ISM Says Service Sector Expanded in September
September Auto Sales Soar Over 2009 Levels, but Fall From August