The Midterm Was a Clear Mandate to ... Um, Well, Huh.
Here's even more evidence that the voice of the people was loud, but not clear, via Pew. The public's priorities are split between reducing the deficit and spending to create jobs. While 48 percent of the country wants to repeal health care, 47 percent wants to expand it or leave it as is. While 39 percent side with Republicans on the Bush tax cuts, 37 percent agree with the White House that taxes should go up for families making more than $250,000.
Only two percentage points divide the public on major issues of spending, taxing, and health care. Divided government? Sounds like the will of a divided nation.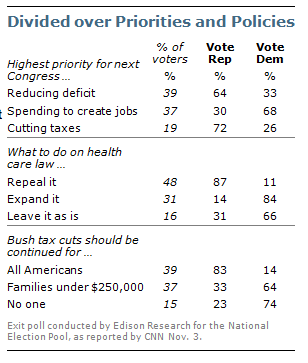 As for the state of the economy, it breaks down predictably between Reps and Dems who showed up on Tuesday.