The Long Road Back to Normal
If you're looking for clear and compelling explanation of the credit crunch, the economic crash and the long road back to normalcy, you could hardly do better than to take out 10 minutes from your day and read this essay. It's a speech by John Williams, the executive vice president and director of research at the San Francisco Federal Reserve, placing the Federal Reserve's new $600 billion stimulus within the scope of the downturn and the long recovery.
If you don't have 10 minutes, here is the graph you need to remember. It compares the fall in core inflation minus food and energy (so it charts the price of apparel and other common goods) in the our recession overlayed with the Japanese recession that led to the Lost Decade of growth. Scary stuff.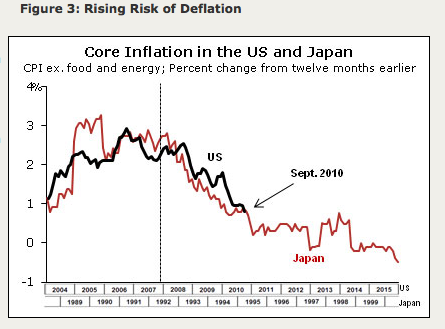 Now, to temper the fear, there are all sorts of reasons why we are not Japan. Demographically, we are younger and sport an important influx of immigrants that help to replenish jobs. Economically, we responded faster to the recession, flushing out the bad banks and propping up the the survivors with trillions in immediate support. In 1990s Japan, sick banks zombie-walked through the decade, nursing their wounds without making loans. In 2010 America, the biggest banks are (for better or worse) healthier than the rest of the economy.

I'm sharing this graph as a rejoinder to a common claim made by critics of the Fed: that with food and gas prices rising, the central bank risks creating dangerous inflation and rising prices that will hurt families. The rising of price of food and gas (which is not accounted for in the chart above) should concern families. But even more, it should also concern families that some economic indicators are tracing the contours of a Lost Decade.