Read more cases for optimism! Part I here, Part II here, Part III here.
American companies just had their best quarter ever, raking in profits at an annual rate of $1.66 trillion, Catherine Rampell reports in the New York Times. Corporate profits have been on a roll for the last year, but the unemployment rate is frozen between 9 and 10 percent. What gives?
There are all sorts of credible explanations for why profits are recovering faster than jobs, including but not limited to: (1) Unemployment is a lagging indicator anyway, because companies don't hire in big batches until they have a dependable flow of income; (2) Executives have become more obsessed with earnings reports since their compensation became more tied to stock prices in the 1990s; and (3) Technology and globalization have nibbled away at middle-education, middle-pay positions.
It's easy to be sickened by the garish gap between corporate profits and unemployment. But remember: In a slow economy, record corporate profits are good news!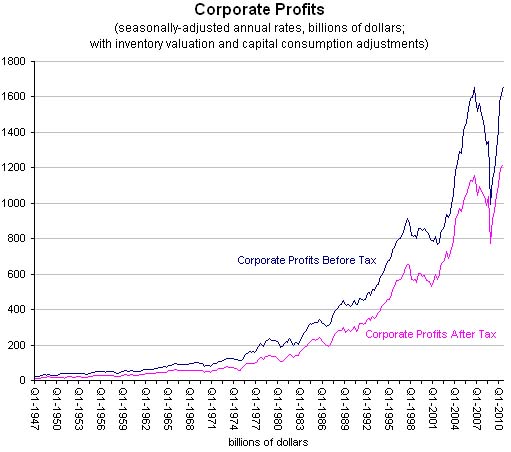 Sour
In order for big companies to add millions of workers per year, they need money. Lots of lots of money. More huge quarters like this one, on the back of rising consumer spending and falling productivity growth, will force companies to add workers to keep up with demand. More workers working will grow demand get even more workers working.
The system feeds itself. But first we need companies to take a bite -- to capitalize on their historically large appetite for new machines and new workers.

We want to hear what you think about this article. Submit a letter to the editor or write to letters@theatlantic.com.
Derek Thompson
is a staff writer at
The Atlantic,
where he writes about economics, technology, and the media. He is the author of
Hit Makers
and the host of the podcast
Crazy/Genius
.