October Auto Sales Decline From September, but Rise From 2009
The seven biggest automakers sold 1.4% fewer vehicles in October than in September, but their sales were up 11.9% compared to a year earlier. The results show Toyota had the worst month, as it was the only one with fewer sales last month than in October 2009. These overall mixed results show that the industry is generally improving, but not thriving.
Let's start with the auto sales of the big 7 compared to a year earlier: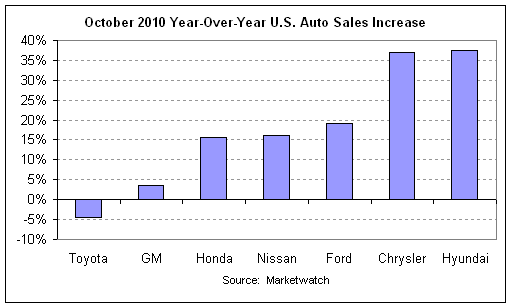 Part of the reason most of the firms' sales were so much higher was that cash-for-clunkers distorted October last year, as it was one of the first few months after the program expired. Consequently, sales were unusually low.
Still, it's interesting to see how well these automakers did in comparison to one another. As we have seen over the past several months, Hyundai and Chrysler continue to shine. Their growth was significantly higher than the others. Meanwhile, Toyota was the only to see fewer sales than it had a year earlier.
It's also useful to look at how sales fared compared to September: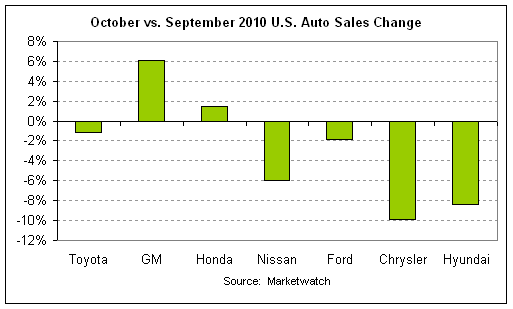 Here, most automakers didn't have strong growth. Indeed, Hyundai and Chrysler were the two weakest, as they had a much better month in September than in October. GM and Honda were the only two of the seven to see month-over-month sales growth. Again, Toyota struggled.
In terms of market share for this universe of automakers, a year can certainly make a big difference. Here's a chart showing how it changed: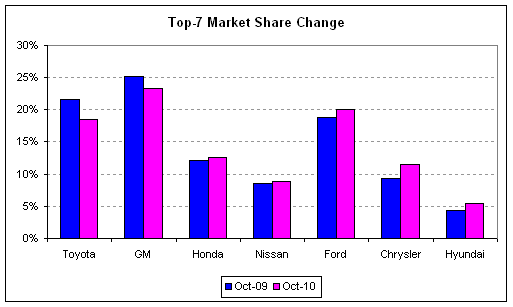 You can see that Toyota and GM both lost significant share from October 2009 to 2010. Much of that share was swept up by Chrysler, Ford, and Hyundai. Here's another way to look at the market share last month: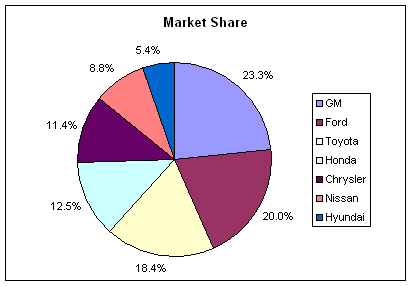 The ranking here shows that GM and Ford remain the leaders, with Toyota coming in third. Although it has been losing some of its share, it isn't yet very threatened by Honda or Chrysler. Although Hyundai has been growing a lot lately, its share is still less than 6% of the combined sales for this group of automakers.
It's hard to call auto sales strong in October, considering that they were weaker than they were in September. But 1.4% isn't a collapse. So for now, the industry appears to have hit a plateau. Until consumer sentiment strengthens, these firms will have a hard time boosting sales much.
(Source: Marketwatch - Toyota, GM, Honda, Nissan, Ford, Chrysler, Hyundai)