New Home Sales Down 8.1% in October
They are stabilizing at an annualized rate below 300,000.
October was a rotten month for the U.S. housing market. Today, we learn that new home sales fell by 8.1% to an annualized rate of just 283,000, according to the Census Bureau. That's well below the increase to 310,000 that economists estimated. This follows news yesterday that existing home sales also dropped, by 2.2%. Fewer new homes sold shows even more clearly that home buying demand is failing to recover.
Here's how the chart looks: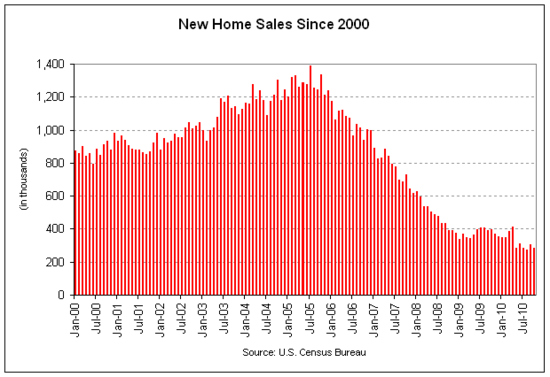 You can see that new home sales rebounded slightly in September after hitting an all-time low in August. But in October, they dropped back down to their July level. There's no upward trend here. Instead, sales appear to be stabilizing at an annualized rate below 300,000.
The drop in existing home sales was pretty easy to explain away as likely caused in large part by the foreclosure and mortgage documentation mess. With new home sales, that argument isn't as strong. While potential buyers in general might be wary about banks practices and procedures surrounding mortgages, with existing home sales foreclosed property sales are relevant.
With new home sales struggling, however, it's more likely that simply weak home buying demand is to blame -- at least in the market for new houses. That's particularly bad news for construction jobs, which could use a boost by more homebuilding. But fewer new home sales also means that more buying demand will extinguish existing home inventory more quickly, which should help the housing market hit bottom sooner so it can finally rebound in a meaningful way.