Manufacturer Orders Rose Briskly in September
In another tidbit of good economic news, manufacturer orders increased in September by 2.1%, according to the Census Bureau. This is the biggest increase since January. It also appears that the summer slowdown is in the sector's past. The report released today is quite positive.
First, here's the chart for orders, from the Census Bureau: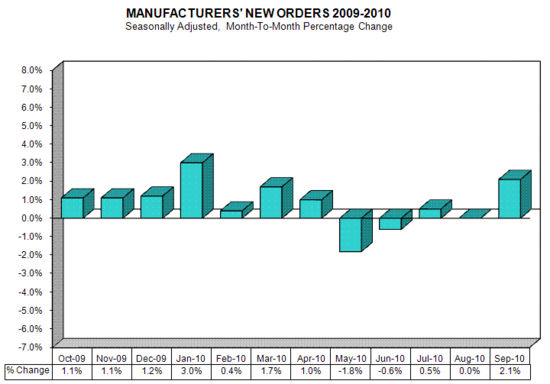 This chart shows how strong September was for manufacturing orders. They rose by $8.8 billion. The sector's growth was led by durable goods orders, which rose 3.5% or $6.8 billion.
The increase in orders for durable goods looks even better when durable good inventories are taken in account. They rose by 0.5%, or $1.5 billion. Since that's a smaller rise than the increase in orders, it implies that more hiring may be necessary to fulfill those orders in coming months.
While this growth for manufacturing isn't incredibly robust, it's certainly headed in a better direction than it was this summer. If the trend continues, then these firms will certainly have to begin hiring additional workers in the months to come.