ISM Shows Service Sector Improved in October
In another sign that the recovery continues to move slowly forward, the Institute for Supply Management released a report today showing that the service sector is getting healthier. It grew for the tenth month straight. The components that ISM tracks also largely improving.
Here's the chart from ISM, with some color coding I added: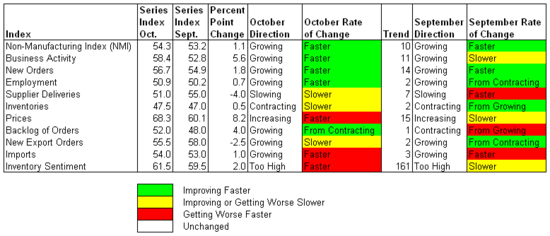 From the coloring, it doesn't look too much better than in September. But there are a few significant changes that provide good news for the sector.
First, business activity is growing faster, which is a very significant indicator. Second, employment is growing for the second month straight, and faster than it was in September. This is a very positive sign for both the service industry and economy more broadly.
Although supplier inventories continued to slow in October, they are now declining more slowly than they were in October, which is also a step in the right direction. Inventories also contracted for the second month straight, which means these firms should demand more goods to replenish their inventories in coming months.
Perhaps the most significant positive shift was from the backlog of orders. It began growing again, which indicates that services firms need to hire more aggressively to keep up with customer demand. New export orders also continued to grow for the second month in a row.
While the negative factors weren't insignificant, they were overshadowed by the positive news. One of those includes inventory sentiment, however. Interestingly, services firms still feel that inventories are too high, even though inventories have been contracting for the past few months. Prices are also rising faster, which will put pressure profits as their costs rise.
All-in-all, this report continues to express cautious optimism about the services industry. And if it begins to thrive, then more hiring should follow. It's just a question of how quickly those new jobs will be created.