Income, Spending, and Saving Struggled in September
There's no silver lining here.
September was a rough month for income, spending, and saving. Personal income in the U.S. fell at an annualized rate of 0.1% or $16.8 billion, according to the Bureau of Labor Statistics. It marked the first month income has declined since July 2009. Disposable income decreased at an even greater rate, by 0.2%. Although spending continued to grow, it did so at a rate of 0.2%, which is slower than in August. Finally, savings fell by 5.4%. None of this is good news.
Let's begin with the chart for income and spending: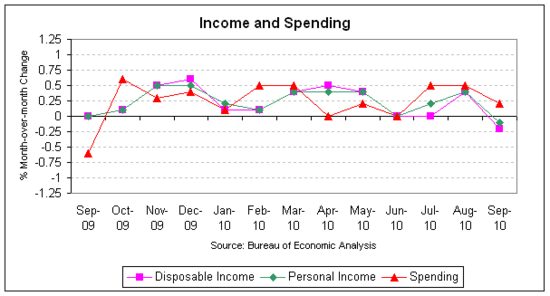 You can see how bad September looks compared to the past year. It clearly had the worst drop in income. To make matters worse, today's report also revised the change in August income to 0.4%, from a stronger first estimate of 0.5%. Disposable income's change was also lowered to 0.4% from 0.5%.
Private industries' wages and salaries actually rose by 0.1% in September. So what drove down income? Government employee income is mostly to blame, which fell by 0.4% during the month. According to the report, government transfers played a big part:
The September change in personal income reflects provisions of unemployment compensation legislation, which had boosted emergency government unemployment benefits (within current transfer receipts) in August.
Spending continued to grow, which might seem good. But it grew at the slowest pace since June. And to make matters worse, it grew more quickly than income, which means that Americans were saving less to spend more.
In fact, saving fell to the lowest level since March. Here its chart: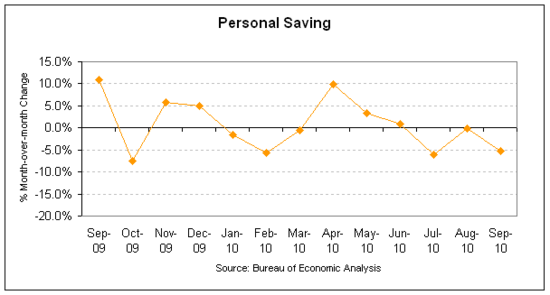 Revisions also plagued saving. Initially, saving was reported as increasing by 1.8% in August, but it actually declined by 0.2%. As the chart shows, it has declined three months straight. After peaking in April, it's pretty clear that a new downward trend has formed.
This probably isn't the news that Democrats want to see the day before an election. Even if you take out the government influence, private income growth was still weaker in September than in July or August. Consumption growth also appears to be weakening, which is bad news for the recovery, where spending is so important to encourage firms to begin hiring more aggressively.