Income, Spending, and Saving All Rose in October
This news provides some reason for optimism about the path of the recovery.
Americans got another good economic report this week about personal income, spending and saving. They all increased, according to the Bureau of Economic Analysis. Additionally, the income numbers since April were revised mostly upward. These statistics strengthen the argument that the U.S. economy continues to recover.
Let's start with the chart for income and spending: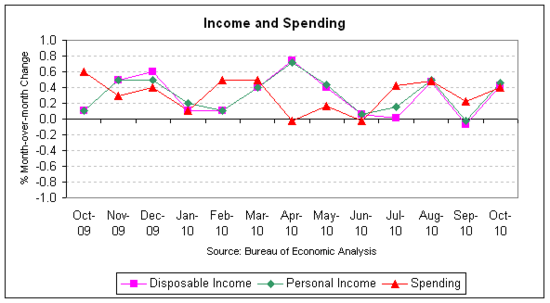 There are a few things to note about this chart. First, income and spending have both been growing pretty consistently over the past year. There were a few months when each were flat, but neither statistic actually declined over the period.
Second, October's numbers were quite a bit better than the decline in growth we saw for September. Last month, personal income matched August's 0.5% growth. Disposable income and spending also experienced solid growth of 0.4%.
As mentioned, today's report also revised the numbers going back to April. Here's how the picture changed for personal income. The new numbers are green, the old ones blue: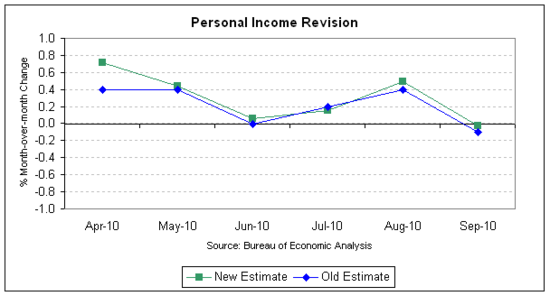 You can see that the green line generally lies above the blue one, meaning that income performed better than we thought.
Saving also rose in October, but barely: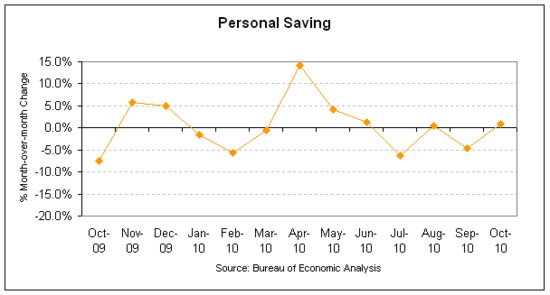 Just 0.8% saving growth isn't much to brag about, but it certainly beats September's 4.7% decline. Americans aren't as interested in saving recently as they were a year or two ago. Over the past six months average saving declined by nearly 1%.
Although less saving is a bad thing from the standpoint of Americans strengthening their balance sheets, there's a silver lining. If Americans are saving less as incomes rise, then this implies that they're becoming comfortable spending more. For firms to ramp up hiring, they must sense renewed consumer demand, and less saving appears to indicate that Americans they are consuming more goods and services.