How the Budget Plans Would Change Your Taxes
Higher tax rates for almost everybody
Enough with the deficit commission report details. Let's get specific: would these budget reforms make you pay higher taxes -- and if so, how much higher?
Here are the charts that try to answer that question. The Tax Policy Center has run simulations on the deficit commission "Chairmen's Mark" (aka the Bowles-Simpson plan), the most recent plan from the Bipartisan Policy Center (aka the Rivlin-Domenici plan) and Paul Ryan's Roadmap.*
These charts can look daunting, but the numbers you should focus on are on the far right: change in average federal tax rate, which takes into consideration all federal taxes, including on income and investment. When the number in the column "% Points" is positive, that means those taxpayers should expect to fork over more in total taxes.
Click the charts to make them bigger. First, the Bowles-Simpson Deficit Commission Report: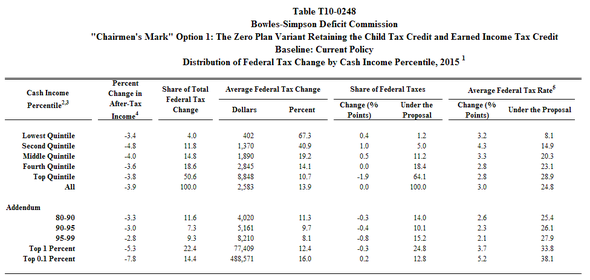 Think of this as an across-the-board three-percentage point rate hike. The progressive contour of the tax code would mostly stay in place. But what about that bulge in the second and middle quintiles where middle-low income families would seem to lose a higher portion of their wages? Troubling. A senior commission official told me that under another option that added back more deductions but raised income tax rates, the distribution would look more progressive.
Second the Rivlin-Domenici bipartisan proposal: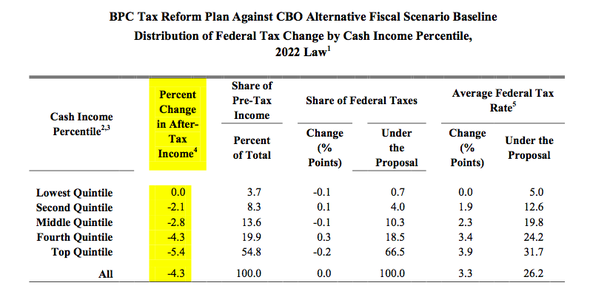 This is the most progressive of the three proposals. The bottom 20 percent would see no tax increase due to generous tax deductions. The top quintile would see its after-tax income drop by 5% due to more limited deductions.
Finally, the Ryan Roadmap: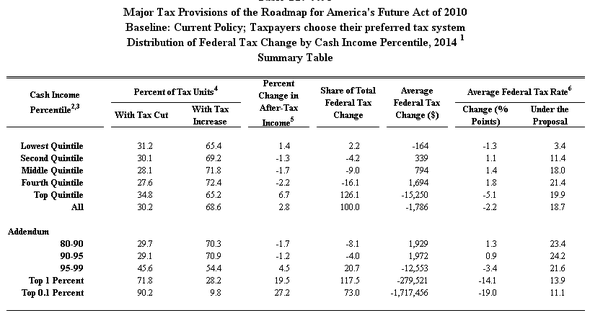 In a sentence: the middle class pays a bit more, and the rich and poor pay less. The rich, in particular, would keep much more money  because Ryan would eliminate taxes on the capital gains and dividends, which make up an higher portion of earnings for the richest.
____
*TPC has not run the numbers on Jan Schakowsky's plan, which would keep individual income taxes where they are today for most payers and put most of the tax burden on the rich and corporations.