Here Come the Jobs! The Case for Optimism, Part II
Read Part I here.
It's hip to be gloomy about the US economy. It might even be prudent to be as pessimistic as the economists predicting a Lost Decade for America. But what if the Doomsdayers are wrong?
If it's not easy to find evidence of a strong economic recovery next year, it's not impossible either. So I'm rounding up whispers, rumors and green shoots for a surprising economic bounce back and making a list you can use as a resource or a rebuttal to the doom and gloom. I'll be updating the list through the year and into 2011.*
Feel the optimism, America! Here are your reasons for hope...


1. Nowhere to Go But Hire
We added more jobs in October -- 160,000 net gain -- than any month in half a year, hopefully putting a full stop to our slumping summer. Private companies added 1.1 million jobs between October 2009 and October 2010. And there's reason to think healthy hiring will continue into 2011. Why?
Productivity growth is slowing down. That sounds like a bad thing, but in a recession it's a good thing. It means employees have been wrung dry. Productivity (or output per hour) increased by 8 percent, 7 percent and 6 percent in the last three quarters of 2009. That burst obviated the need for new hires. But in 2010, workers were worn out and productivity fell back to earth, before rebounding slightly last month (see graph below). Companies can't squeeze their workers for more worker and they'll have to add jobs to increase output.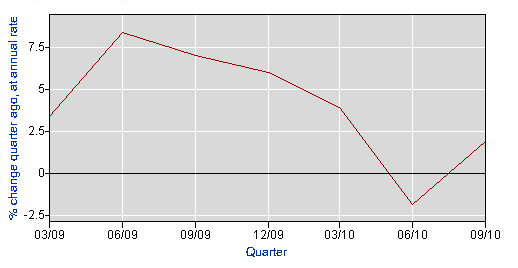 Companies have a reason to hire, but do they have the means? Many do. Large non-financial companies are sitting on nearly $2 trillion in cash, and their revenues are rising. Four in five firms in the S&P 500 saw growing revenue in the last three months they reported (see graph below). Profits are up. Labor is cheap. And the productivity engine cannot shift to a higher gear. The foundation is set for healthy hiring into 2011.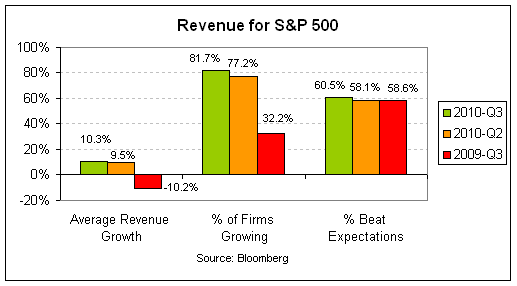 2. Stocks SurgeAfter the Federal Reserve announced its plan to drag down medium-term interest rates to make it cheaper for homeowners and companies to borrow, the stock market climbed back to its highest level since the Lehman Brothers crash in 2008. Stronger stocks mean healthier investment and retirement accounts. That makes consumers and companies feel wealthier, which makes them more likely to spend money.



3. The Return of Small Business Credit
Ian Shepherdson, chief United States economist at High Frequency Economics, has been an economic bear for the last five years. But today he sees glimmers of hope in the small business scene, with warming credit conditions feeding pent-up demand for capital goods (like machines used to build other goods) and workers.
Even as the economy thaws, small business credit is cold. Banks are reluctant to lend to small firms, which means small firms employing half the country's labor force struggle to expand. That's changing, slowly. "Credit contraction seems to be coming to an end," he told the New York Times' Gretchen Morgenson. "Over the next 12 months I think we will see a transition out of a sluggish 2 percent economy to a real, properly growing recovery. And the second half of 2011 may be the true turning point for unemployment."
If the credit expands at the pace Shepherdson predicts, the economy could grow by 4 percent in the second half of 2011 and we could achieve normal credit and growth conditions in 2012.
4. Yuletide Shopping Stimulus
For retail jobs, the holiday hiring season is off to its fastest start since 2006, according Challenger, Gray & Christmas, Inc., a global outplacement firm. Retail companies added more than 150,000 jobs in October, three times the jobs they added one year ago, and four times the October 2008 figure.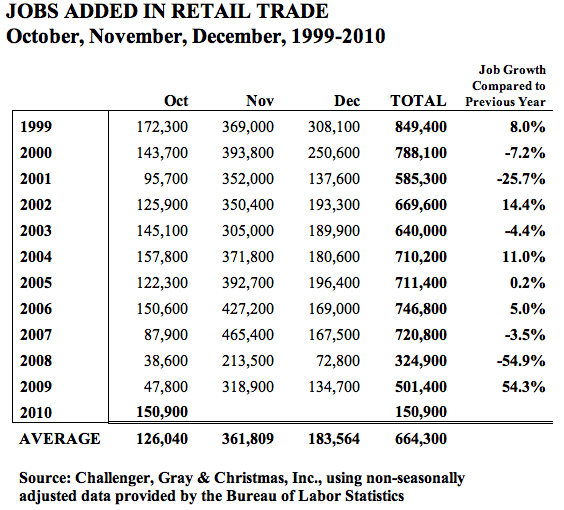 Christmas season retail positions are often seasonal. The unemployment rate factors in that seasonality, so it might not decline much in response to a large Christmas hiring spree. What's more, temporary jobs don't provide permanent employment, as any summer Census worker can tell you. But a strong Christmas season on the hiring and spending side cook a hotter economy heading into January 2011.
*I'd love your help! See anything else that makes you smile about the economy? Leave it in the comments section, Tweet a link @dkthomp, or email me at dthompson@theatlantic.com,