Here Come the Jobs! The Case for Economic Optimism in 2011
Today's unemployment report is the best news we've heard from the labor market in half a year. After months of flat job growth, this is equivalent of calling it the warmest ice cube in the fridge. The private sector added 159,000 jobs, but the unemployment rate stayed frozen at 9.6 percent.
Today, the jobs picture is a tug-of-war between the private and public sector. Private companies are tugging toward growth, adding an average of 111,000 jobs each month this year, nearly enough to keep up with population growth. But federal, state and local governments are contracting by 24,000 jobs a month.
But underneath the top-line numbers, there is good news stirring. It has to do with you -- yes you -- and your falling productivity.
While productivity inched up in yesterday's report, workers' output-per-hour has stalled in the last year. That sounds bad. Higher productivity points to higher living standards. But in a recession, we want productivity numbers to hit a ceiling. That means employers have run their current employees ragged and the only way to make more stuff is to hire more workers. More workers means lower unemployment and higher demand.
So maybe we should sheath our populist anger at corporations and cheer the new that the largest companies in the U.S. had a great third quarter. Profits are up. Revenue is up. Labor is cheap. Lending is cheap. And the productivity engine cannot shift to a higher gear. Has there been a better time to add new workers?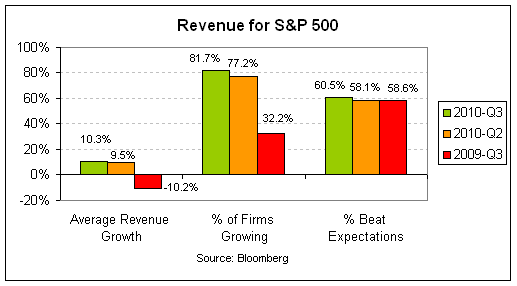 Maybe not. But even with the stock market back at mid-2008 levels, businesses aren't in a hurry to restore mid-2008 payroll levels. And practically nobody is predicting a gangbusters 2011.
But if there is a silver lining to a gloomy 2011 outlook, this is it. The last few quarters have been quite good for many large companies and quite horrible for many workers. Eventually, the gap has to close. We have to hope that companies with money with find workers without jobs and share the wealth. With any luck, this month's jobs report is the first sign that there's nowhere for company payrolls to go but higher. Or rather: hire.