In the wake of the Fed's decision to do even further quantitative easing, a decision which has invited criticism from China, Russia and the Euro zone, gold has now shot above $1400 an ounce.  Perhaps I'm too ready to call bubbles in assets, but this sure looks like one to me.
I know, I know--inflation!  But why gold and not, say, euros, which are currently trading at 1.4 dollars per euro?  They've gone up a bit, but nothing like gold's
stratospheric rise
: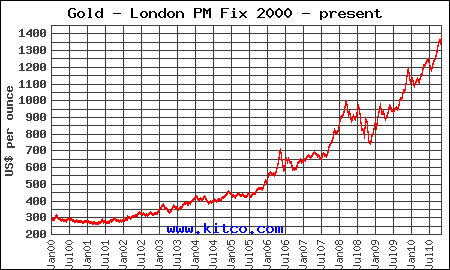 The whole idea of gold as some sort of unique store of value is badly flawed.  It
doesn't make a particularly good currency
, and it also doesn't make a particularly good investment.  Except when investors are panicking, its price tends to be driven by supply and its industrial and jewelry uses, which means that it's an excellent way to lose money by buying when
you're
panicking and then having to sell out as it's on its way down. Given that the price has already risen more than fourfold from a decade ago, this looks particularly likely right now.
It's not that quantitative easing may not cause inflation--it might.  In fact, that's sort of the point; the Fed wants a little more inflation in the money supply, in order to ease the unemployment rate.  But consider how much inflation there would have to be for this gold price to make sense.  Even assuming that something like the July 06 price of $550 is a more natural price, the price of gold is now almost triple that.  Are we going to get 10% inflation a year for a decade or so out of this quantitative easing?  Not really very likely.  Especially since what the Fed giveth, the Fed can take away--if inflation spikes that high, Uncle Ben will convert to an inflation hawk.