Existing Home Sales Fell 2.2% in October
The big foreclosure mess has put a quick end to the short trend of increasing sales.
So much for an aggressive housing market rebound. Although some housing analysts predicted that the pace of home sales would recover quickly after a few disastrous months following the home buyer credit's expiration, the upward trend has stalled. The National Association of Realtors says that existing home sales fell in October to 4.43 million, down 2.2% compared to September. Although this isn't good news, it might be more a feature of the big mortgage documentation mess than intrinsic demand for purchasing homes.
First, let's look at the chart: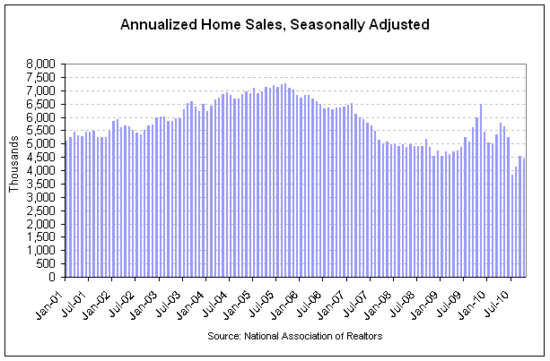 You can see that the positive trend was short lived, just two months. One reason for this, however, is that many potential buyers were likely worried about the stability of a purchase in October, as banks and servicers frantically worked to revise their documentation and procedures surrounding mortgages and foreclosures. There were fears surrounding title insurance and foreclosure lawsuits which probably kept some Americans out of the market.
But even if this effect is temporary, it's having a real impact on housing market performance NAR's chief economist Lawrence Yun is now saying:
"The housing market is experiencing an uneven recovery, and a temporary foreclosure stoppage in some states is likely to have held back a number of completed sales. Still, sales activity is clearly off the bottom and is attempting to settle into normal sustainable levels," he said. "Based on current and improving job market conditions, and from attractive affordability conditions, sales should steadily improve to healthier levels of above 5 million by spring of next year."
Compare that to what he said in August, when speaking about the housing market's July plummet after the buyer credit's expiration:
"Even with sales pausing for a few months, annual sales are expected to reach 5 million in 2010 because of healthy activity in the first half of the year."
Now, in order to hit 5 million, sales would have to average an annualized rate of 5.45 million in November and December, a 24% increase over October's rate. Of course, that isn't likely to happen. Consequently, annualized sales will more realistically approach 4.85 million. Indeed, now rates even reaching the pace of 5 million at some point in the spring appears optimistic.
One of the seemingly positive developments in the NAR's report for October is home inventory. It has declined: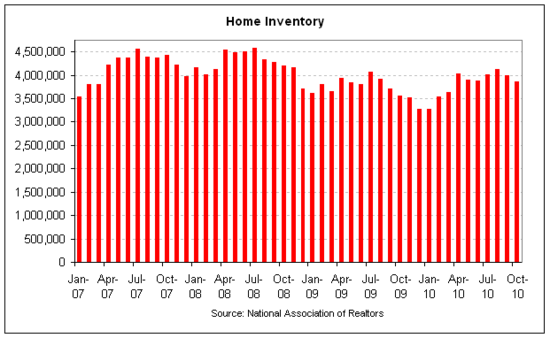 It was down 3.4% to 3.86 million in October, the lowest since March. That's great, right? Well, yes, but it's also not really accurate. Home inventory has been so high over the past few years due to foreclosures, and they have artificially slowed due to the big mess that banks and servicers are working to clean up. Inventory would have likely been higher if foreclosures scheduled to occur had hit the market as planned in October. Instead, it remains relatively low, but will likely increase more aggressively once the foreclosures resume again, as banks and servicers will have lots of defaulted properties they held back to work through.
Although October's home sales were largely distorted due to the foreclosure fiasco, the effect its poor performance may have on consumer sentiment could outlast the problem. Banks and servicers failure to properly document and process mortgages have given another reason for already wary buyers to stay away from the market. That's bad news for housing, and we're just beginning to see its effect in last month's results.