Consumer Confidence Rises as the Holidays Near
As if better-than-expected Black Friday and Cyber Monday performances aren't enough, retailers got even more good news Tuesday morning. Consumer confidence rose in November at the fastest clip since May, according to the Conference Board. That was back when the recovery was thought to be well underway. This has positive implications for holiday shopping and the broader U.S. economy.
Here's a chart showing how the Consumer Confidence Index has changed since mid-2009: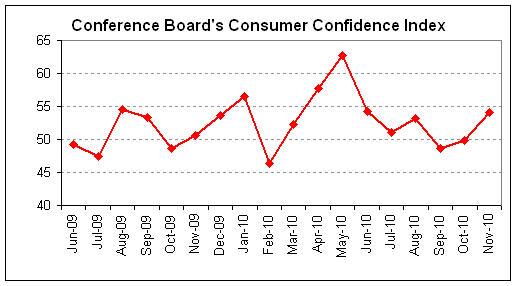 The index rose to 54.1 in November. That's nearly matches the best measure since June, when it was 54.3, five months earlier. That was the first month that the positive trend forming from March through May hiccupped. The index also rose an impressive 4.2 points in November, which is the most since it rose 5.0 points in May.
The Conference Board's report also says that the Present Situation Index increased slightly, while the Expectations Index jumped a couple of points. The latter index is at its highest value since May. This additional detail shows that Americans aren't doing all that much better than they were in October, but they are feeling more optimistic about the future.
That should translate into fairly strong holiday sales. Much of the lackluster spending over the past few years has been due to nervousness about the path of the economy. If Americans are becoming more comfortable with where the economy is headed, then they won't be as stingy with their money. Of course, if consumers are wiping the cobwebs from their wallets, the timing couldn't be better for retailers.
But more broadly, we need to see if this is a real trend forming, or just more volatility in consumer sentiment. Looking at that chart, you can see sentiment changing direction quite a few times over the past several months. Before we declare that the American consumer is well again, the index needs to continue to climb -- even past its May high. But for now, the increase in November looks like pretty good news.