Construction Spending Flattens Out Near Decade Low
It increased slightly in September, but only because July's and August's numbers were revised down.
More money was spent on construction in September, revealed a report from the Census Bureau on Monday. But the report was actually a pretty negative one for the sector -- it revised downward the past two months' construction spending significantly. As a result, it has been virtually flat over the past three months, hovering around $800 billion, which is the weakest spending on construction in about a decade.
Here's a chart showing how construction spending has changed since 2000: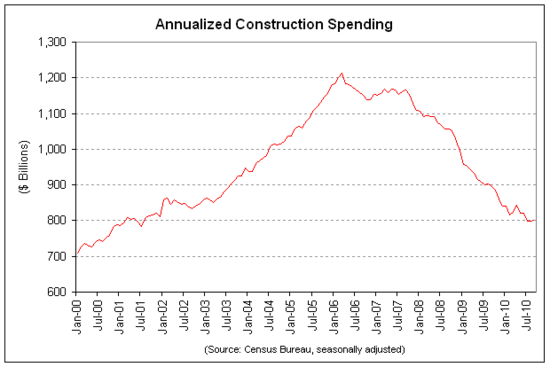 You can see how flat it has been over the past couple of months. In September it increased 0.5% to $801.7 billion. Over the past three months, construction spending hasn't risen above its July 2001 level.
September's increase might sound like an improvement, but it's only better than July and August because Monday's report revised downward both those months' tallies. They changed to $798.8 billion and $797.5 billion from $808.6 billion and $811.8 billion, respectively. As you can see, those are pretty big revisions. If spending for August hadn't been revised, then September's result would have meant a 1.2% decline, instead of a 0.5% rise.
Most of September's increase was due to a rise in public construction. Spending on structures by the government rose 1.3% from August. In the private sector, month-over-month spending was flat. This was mostly due to commercial construction remaining virtually unchanged, though residential construction rose slightly, by 1.8%.
Compared to a year earlier, private construction spending was much lower, down 16.8%. Public construction, however, has risen. It's up 1.3%. At this point, any growth in construction spending is clearly being driven by government spending, not firms creating more structures for growth.