Want a Balanced Budget in 2020? Cut Military Spending by 40%
This graph is the product of Esquire Magazine's Commission to Balance the Federal Budget. The mag convened a three-day power-brainstorm with MSNBC host Lawrence O'Donnell and four former senators -- two Democrats, two Republicans -- to close a projected $700 billion deficit in 2020.
The group succeeded in finding $600 billion in spending cuts in 2020 without raising tax rates. They dramatically reformed Social Security, eliminated some major tax deductions, and increased the gas tax by $1. Most significantly, they reconfigured military spending to cut the Defense budget by 40 percent in 2020.
When you focus on the big numbers, the Esquire commission reduced spending by 3 percent of GDP almost entirely on the back of Social Security and Defense cuts: $86 billion from Social Security, $170 billion from military revamping, and $130 billion from wrapping up the wars in Afghanistan and Iraq. What's wrong with that? Nothing -- in 2020.
But the long-term federal deficit crisis doesn't have very much to do with Defense spending. It's a health care problem riding on the back of more expensive medicine and longer-living patients. The commission begins to approach this problem by repealing the employer health care tax exclusion (which makes your office health care tax-free) and calling for pay-for-performance incentives to move away from a system that pays doctors to over-treat you. But it's hard to put into a magazine article (or any article) exactly how you plan to change insurance motives, patient incentives, provider-pricing and the other variables that contribute to rising health care prices in and outside Medicare.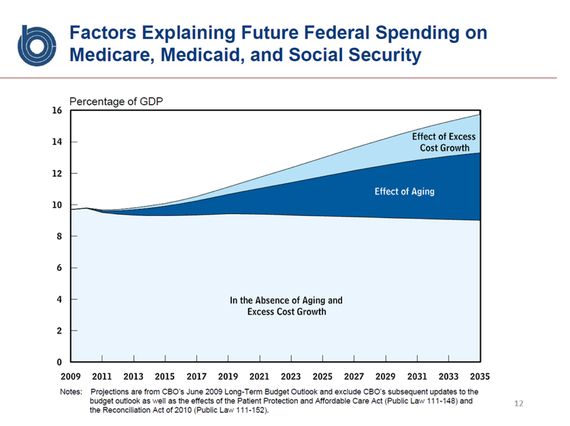 If you're looking for one simple takeaway from the piece, try this: Balancing the budget by 2020 almost entirely through spending cuts is doable, if you cut defense spending by 40 percent.