U.S. GDP Up 2.0% in the 3rd Quarter, Despite Housing Contraction
Although the U.S. recovery felt like it may have been stalling for some of the third quarter, the economy's growth was actually stronger than it was in the second quarter. Gross domestic product (GDP) grew at a 2.0% pace during the three months ending in September 2010, according to the Bureau of Economic Analysis. That nearly matches economist estimates of 2.1% growth and beats the second quarter's 1.7% pace. Breaking down the numbers shows progress in many sectors of the economy. Today's report also provides Democrats the opportunity to exhale, as it could have been much worse.
Let's begin with the chart showing GDP growth since the second quarter of 2006: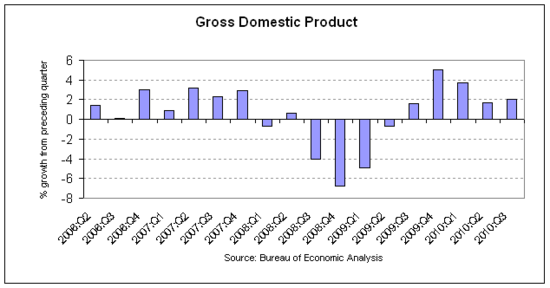 You can see that GDP growth remains well below its rate from a few quarters ago, but it's actually higher than it was a year ago. It's in important to bear in mind, however, that this is just a first estimate. Two revisions will follow, and last quarter's GDP was ultimately 0.7% lower than the advance estimate predicted.
Before diving into the numbers, it's actually pretty easy to summarize the U.S. economy's performance in the third quarter. Americans spent more money, particularly on things like services and leisure. Businesses also ramped up their inventories. The trade gap didn't hurt the economy as severely as in the second quarter. That's all the good news. On the other side, there was a drastic contraction in the housing market. Government spending also grew at a slightly slower pace, as did private sector investment.
This news should come as a huge relief to Democrats. Although it won't help them much at the polls, at least it won't hurt them. Growth was still rather modest at 2.0%, but if it had declined from the second quarter, then Republicans would have a priceless talking point to dwell on. Instead, the Democrats can continue to assert that their economic policies have resulted in steady growth, while the Republicans will keep arguing that those policies have failed to allow growth to be as brisk as it would otherwise be.
Now, let's dig into the numbers.
Consumer Spending
Although we hear businesses complain that consumer demand is weak, spending actually increased by 0.6%. It was responsible for 1.8% of the 2.0% growth in the quarter.
Spending on goods grew, but that growth was a little slower than in Q2. This was mostly due to weak growth in auto sales. One of the biggest reversals in consumer spending came from non-restaurant food purchases, which rose 0.9% after a decline in the prior quarter. Americans spent less on clothes and gasoline, however.
Services spending grew at a brisker pace than in the second quarter. Most of that spending came from utilities and health care. But recreation spending contributed the most to GDP growth since late 2006 and increased for the first time since early 2009. That's a pretty important result, as it shows American consumers are becoming comfortable enough with their finances to spend more on leisure.
Investment
Third quarter investment growth was half what it was in the second quarter. That's mostly due to fewer home sales. Residential investment brought growth down by 0.8%. Business spending on equipment and software also grew at a slower pace than in the prior quarter. Firms did, however, spend more on inventories, by a substantial 67.9%. This implies they are becoming more optimistic about future sales.
Net Exports
Another relatively good result was the trade gap. Although, overall, this component still subtracted 2.0% from GDP growth, that's a lot better than in the prior quarter, when net exports brought down growth by 3.5%.
Exports grew 1.2% in the third quarter, which was slower than the prior quarter's 2.2% pace. Imports also grew in Q3, by 4.1%. That's wasn't as harmful to GDP as Q2's 7.5% jump in imports, however.
Government Spending
Finally, the government grew a little more slowly in the third quarter. On the federal level, its growth rate was nearly identical to that in Q2 at 2.1%. But on the state and local level, spending actually declined slightly, by 0.1%.
Overall today's report provides some reason for optimism. The economy grew more quickly in the third quarter than in the second, and that was in spite of an extremely weak housing market. The economy's progress also can't be attributed to government spending, which actually grew slightly slower than it did in Q2. In general, consumers felt a little more comfortable spending, and businesses more aggressively ramped up their inventories. Although net exports aren't helping the U.S., they didn't hurt the nation as badly as they did in the second quarter. While 2.0% GDP growth isn't incredible news, it certainly indicates that the recovery hasn't changed direction: it's just slower than Americans would prefer.
Note: Component growth rates cited above are not annualized, but overall GDP growth and component contributions are.