The Economy Generally Improved in August
You wouldn't have known it from the headlines, but August was easily the best month of the summer for the U.S. economy. A review of economic indicators over the course of the month shows that most moved in a positive direction. Unfortunately, even through many of these data points showed improvement, their progress was generally muted. August reinforced the theme of a very slow recovery, but a recovery nonetheless.
Here's a matrix of some of the major economic indicators and a qualitative representation of how they changed in August: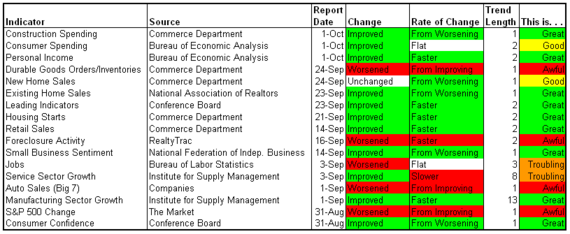 See the end of the post for the usual disclaimers about the imperfect nature of a chart like this.
As in July, green dominates the picture. In fact, August was quite a bit better than July on a qualitative basis. Here's a comparison of the grades above for the two months: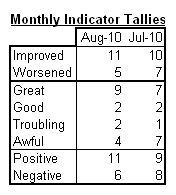 From this breakdown, you can see that August had six net improved indicators, while July had just three. The second part of the chart shows that there were more "great" verdicts in August as well, which led to more positive indicators overall. There were also only four "awful" grades in August, compared to seven in July.
Of course, it's important to look a little deeper here. Six of the positive indicators moved in the right direction, but still performed very weak historically. They included construction spending, new home sales, existing home sales, housing starts, small business sentiment, and consumer confidence.
So it would be incorrect to conclude here that the economy is in a rapid, widespread recovery. Instead, things are mostly getting better at a very modest pace. Still, the economic data from August did not point to a double dip, which is some consolation.
Disclaimers about the matrix:
This is by no means a completely exhaustive list, but it does take into account many important statistics.
It represents more of a qualitative summary, however, since it just considers directional movement from month-to-month, rates of change, and trends. 
There is some overlap.
Also, here's a list of posts that covered some of these August indicators:
August Construction Spending Beats Expectations
Americans' Income, Spending, and Saving All Rose in August
New Homes Sales Perfectly Flat in August
Existing Home Sales Rise 7.6%, But Remain Very Low
Leading Indicators Improve in August
Housing Starts in August Flew Past Expectations
Retail Sales Continued to Rise in August
Bank Repossessions of Homes Reach New High in August
Have Democrats Failed Small Business?
Despite Unemployment Rising to 9.6%, a Glimmer of Hope?
Service Sector Grows More Timidly in August
Auto Sales Struggled in August