The Big Business of Marijuana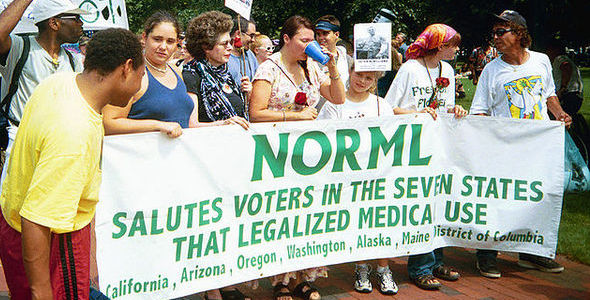 On November 2, Californians will vote on Proposition 19, a ballot measure that would legalize marijuana use and cultivation for adults and allow pot to be regulated and taxed. But even before votes are cast, cannabis capitalism is in full swing, as budding entrepreneurs launch businesses on the back of California's "other" Green Revolution.
One such company is weGrow, an Oakland-based garden supply outlet that's nothing less than a superstore of cannabis cultivation. The 15,000-square-foot retail warehouse that some have dubbed "Home De-Pot" sells everything that the aspiring pot grower needs to grow his own medical marijuana (and if Prop 19 passes, up to 25 square feet of marijuana for recreational use). The store specializes in hydroponics, the growing method long favored by discerning cannabis cultivators that raises plants in a water and nutrient solution, without soil. So far, business is blooming; weGrow is on track to gross more than $1 million in its first year of operation.
The Oakland superstore is only the start. weGrow will soon open two additional California stores and has ambitious plans to expand nationally. It already has about 75 weGrow franchise stores under contract (at $25,000 a pop) in Colorado, Michigan and Illinois. It expects to have an additional 65 franchise stores in California.
It's not just hydroponics stores hopping on the boo bandwagon. Jerome Handley, an attorney based in Hayward, California, specializes in what's emerged as an entirely new area of practice, "cannabis business law." Hadley currently handles about 50 clients who run cannabis-related businesses, ranging from medical marijuana growers and dispensaries to paraphernalia makers.
"When the Obama administration came in and the feds backed off closing dispensaries, I suddenly got bombarded with people coming in saying, 'We want to incorporate, we want to pay taxes, we want to make sure our books and records are in order,'" Handley says. "I tell my clients that in California, you may not have to worry about the police anymore, the thing you have to worry about is the IRS."
Other cannabis-related ventures offer business services to medical marijuana dispensaries. Medical Marijuana Inc., based in Mission Viejo, Ca., offers pre-paid debit cards for dispensaries and has plans for a "seed to sale" inventory control tracking system for marijuana.

"Most people think cannabis businesses are just the growers and the dispensaries," says Bruce Perlowin, chairman of Medical Marijuana Inc, and a self-confessed former marijuana smuggler who once spent 9 years in federal prison. "But there's a huge number of peripheral businesses out there. There are the doctors who are making a fortune off of medical marijuana. There are magazines, radio shows, insurance companies, hemp expos and trade shows, hemp clothing. It's exploding."
San Jose-based Northern California Natural Collective even delivers medical marijuana directly to the door of patients, and has made more than 1,000 house calls since the collective opened in April. Scores of other dispensaries offer delivery service, most of them in and around Los Angeles and the Bay Area. If Prop 19 passes, such pot-on-wheels services are likely to become as popular as Domino's. And someone is bound to offer the ultimate delivery service: pot and pizza.
Then there are educational ventures, such as Oaksterdam University, with campuses in Los Angles, the Bay Area and Flint, Michigan. The school teaches students about the business of cannabis with courses such as The Science of Cannabis, Dispensary Operations and Methods of Ingestion: Cooking.
Cannabis-related operations have become considerably less shy about the nature of their business, an attitude very much in evidence at weGrow's hydroponics superstore. Unlike most hydroponics operations, which are conspicuously silent about exactly what their customers are growing, weGrow makes no bones about what everyone's up to.
Visitors to the store are greeted by three clocks: the first two display the time in California and Amsterdam, while the third is set perpetually to 4:20, the universal code for pot smoking. WeGrow hosted a 4/20 festival in April, complete with magicians, artists, food, music, and on-site consumption of cannabis for verified patients in a "vaporizer lounge." Place a phone call to weGrow's store and you'll chill to reggae music on hold. A doctor is on site at the store three days a week to perform evaluations for patients who want a medical marijuana card. In-store displays show real marijuana plants growing in a hydroponics system (sorry, no free samples). It's this no-apologies approach that leads weGrow to call itself "the first honest hydro store."
"We trying to create a brand, not just a store," says weGrow co-founder Derek Peterson. "The majority of hydroponic stores are still hiding in the dark, they don't want to admit that they're cultivating cannabis. Our opinion is that we can educate people without crossing the line."
The weGrow business operation is more spreadsheet than spliff; Peterson spent a decade working on Wall Street as an investment banker. The company's franchising plan borrows from successful businesses like Subway, and the store design looks like something out of Ikea, featuring mock-ups of various rooms in a customer's house set up to grow cannabis. Next year, Peterson plans to take weGrow's distribution company public, first as an over-the-counter stock, then as a NASDAQ listing.
Such seriousness of purpose is evidence that the cannabis business is maturing, as the marijuana counterculture morphs into the over-the-counter culture. The trend is reflected in weGrow's mainstream customer base.
"Some people think it's gangsters and stoners walking in and buying this stuff and it's not," says Peterson. "Our customers are literally everybody you'd see in an Ikea. There are people in suits and people who bring their kids along. It's ex-real estate agents, it's mom and pop, you name it."
weGrow is already profiting handsomely under California's current medical marijuana laws, which allow qualified patients to grow at least 6 mature plants or 12 immature plants. Some California counties and cities allow for considerably larger harvests; Oakland, for example, permits 72 indoor plants or 20 outdoor plants. Proposition 19 would allow any adult to grow marijuana for personal use in a private residence, as long as the growing space is no larger than 25 square feet.
It's unclear whether Proposition 19 will pass; public opinion polls have been divided on the outcome. And if the measure passes, it's possible that the federal government will seek an injunction to halt the law going into effect. U.S. Attorney General Eric Holder has promised to "vigorously enforce" federal drug laws against Californians who grow or sell marijuana for recreational use, regardless of state law.
But even if Prop 19 is defeated, California appears to be at a tipping point when it comes to marijuana, and other states may not be far behind. California passed the nation's first medical marijuana law in 1996; since then, 13 other states and the District of Columbia have followed suit, while South Dakota and Arizona will vote on their own measures on November 2nd.
A 2009 Gallup poll found that 44% of Americans favored making marijuana legal, the highest percentage on record. U.S. public support for legalizing marijuana has risen steadily since 2000, after being stalled at about 25% from the late 1970s to the mid-1990s. Earlier this month, California quietly downgraded the penalty for possession of an ounce or less of pot from a misdemeanor to an infraction -- basically the equivalent of a parking ticket. Massachusetts already has a similar law in place, and there's no penalty at all for possession of an ounce of pot in Alaska.

The liberalization is due in part to changing demographics - bong-savvy Boomers are replacing an older generation with little or no real-life experience with marijuana. But the economic downturn also seems to have accelerated pot's acceptance. California's legislative analyst estimated that Prop 19 could bring in hundreds of millions in tax revenue at a time when the state faces a budget deficit of more than $16 billion.

Cash-strapped cities such as Oakland are eyeing marijuana as a reliable revenue stream in a bummer economy. Oakland city officials have nearly tripled the sales tax on medical marijuana dispensaries, doubled the cost of annual permit fees, and increased the number of dispensaries from four to eight. A plan to allow four industrial-size grow sites within Oakland city limits would raise an additional $5 to $8 million annually.
"Medical marijuana operations will create almost 1,000 new jobs for Oakland residents," says Oakland city council member Larry Reid, who opposed the city's first medicinal marijuana law in 2004, but now supports Prop 19. "The revenue it generates is going to help cities that are struggling to keep their heads above water."
And it's not just governments that see marijuana as a way to take the edge off of harsh economic realities. A growing number of unemployed Californians view pot as a gateway drug to a job. weGrow counts among its franchisees a number of out-of-work real estate agents and financial services employees.
"With cannabis, you can actually create a job for yourself," says weGrow's Peterson. "People are growing out of necessity. I don't know if the acceptance of marijuana we're seeing would have been as quick if not for the economy."
The cannabis capitalism evident these days in California may be a harbinger of what's to come in some, but certainly not all, states. The map of states with medical marijuana laws already resembles the red/blue political map, with the blue states taking the liberal pro-pot position. Further marijuana liberalization is likely to follow the all-too-familiar red/blue divide. Eventually, we may end up with two Americas: one straight, the other totally mellow.
>