Small Business Embodies the Painfully Slow Recovery
Although economists recently declared that the recession ended last year, most Americans would argue otherwise. Small businesses would also say that the technical absence of a recession has done little to change their prospects. The September survey (.pdf) by the National Federation of Independent Business shows that sentiment among smaller firms continues to grow, but very, very slowly. The struggle for small businesses to climb out of the doldrums of recession matches the difficulty being experienced by the broader U.S. economy to put the recession in its past.
The NFIB's Index of Small Business Optimism rose in September for the second straight month -- but barely. It increased to 89.0 from 88.8 in August. While even a small increase is certainly better than a decline, the level of 89.0 still indicates a recessionary attitude on the part of small firms. Here's how the index has changed since 2006: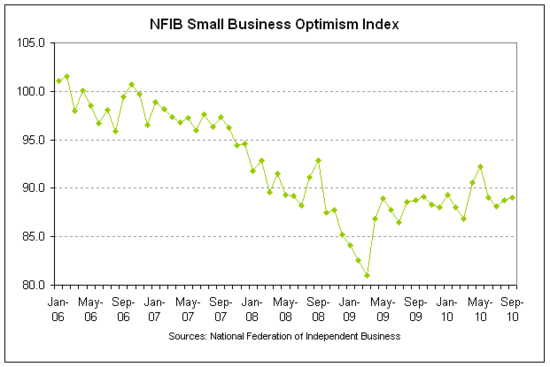 Again, it has improved substantially since early 2009, but remains quite low on a historical basis. At this point, it's risen back to its June level, after declining during the summer.
One thing driving the increase in overall sentiment was smaller firms' outlook for expansion. It also increase to its June level last month with net 6% of firms surveyed saying that now was a good time to expand. That matches the highest level we've seen in 2010. But think about how anemic net 6% really is. That means that there are barely more firms that say now is a good time for expansion compared to those that think it's a bad time. This is not what you would expect during an economic recovery, which shows why it has been so weak.
So what's got smaller businesses so down? Sales remain firms' biggest problem, and small businesses expect sales to worsen. As you might guess, that isn't good news for hiring. There was a slight increase in firings in September. To make matters even worse, hiring plans now indicate that additional layoffs lie ahead. Planned hiring is at its lowest level since November 2009, with more firms saying that they intend to reduce their personnel than add new workers.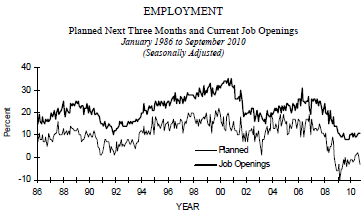 As mentioned sales remains the most important problem, with 30% of small businesses naming it the biggest reason for their difficulties. Taxes were the next most significant problem, according to 23% of smaller firms. Government regulations and red tape came in third, with 16% of small businesses saying they were most responsible for their problems.
Small business is often described as the heart of the U.S. economy. Through this survey that assertion makes sense. They appear to be recovering, but very, very slowly. Meanwhile, that recovery doesn't include much hiring in the near-term. This isn't likely to change until these firms begin to sense better demand on the part of American consumers.