September Auto Sales Soar Over 2009 Levels, but Fall From August
Did auto sales rise or fall in September? It depends on the comparison. Relative to September 2009, the combined sales of General Motors, Ford, Toyota, Chrysler, Honda, Nissan, and Hyundai rose incredibly -- by 29.2%! But if you compare that same sum to August, sales declined by 3.9%. Unfortunately, the more meaningful measure is the month-over-month change in this case, since September 2009 sales were distorted due to the expiration of the cash-for-clunkers program the month prior.
Even though the enormous magnitude of the year-over-year change isn't that meaningful, how the individual automakers did compared to a year earlier is still useful to note. Here's a chart:
The big winner in September was Chrysler, though its incredible 60.9% rise in sales was mostly due to its poor performance during the same month a year earlier. Yet it still managed to outsell August. Here's another chart for the same automakers: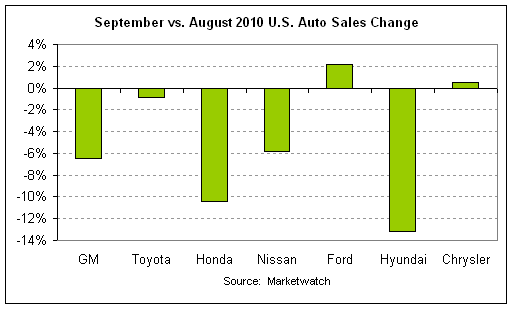 Now we can begin to see more meaningful magnitudes. First, note that the vertical range is different in the two charts above. The month-over-month declines weren't nearly as great as the year-over-year gains. But as you can see, Chrysler and Ford were the only two to see sales growth from August. Hyundai and Honda both experienced the biggest drops, by more than 10%.
Further evidence of the recent success of Chrysler is the market share change among this universe of major automakers. Here's what it looked like in September: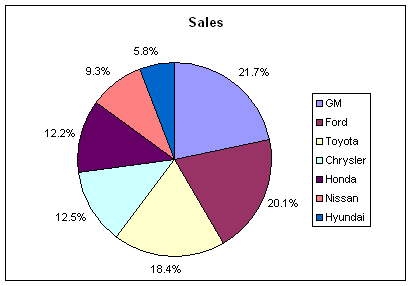 Chrysler is again beginning to outsell Honda, which is pretty significant. It is quietly having quite a little run. Additionally, it was the only automaker in the group to have sales growth from July to August. Here's the year-over-year change in share broken down: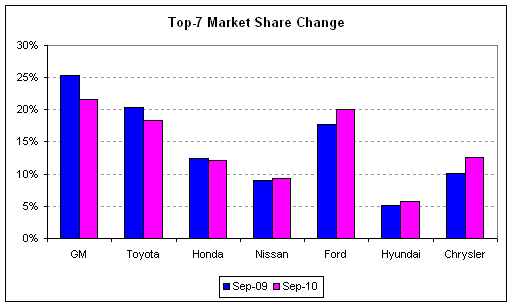 You can see that, compared to a year ago, both Chrysler and Ford had more than 2% increase in their share of the sales of these seven automakers. Meanwhile, GM and Toyota each gave up a substantial chunk of their shares, losing 3.7% and 2.0%, respectively.
(Source: Marketwatch - GM, Toyota, Honda, Nissan, Ford, Hyundai, Chrysler)