Retail Sales Rose Again in September
Americans have begun to loosen their grips on their wallets. Retail sales have increased for three straight months, according to the Census Bureau. A report on Friday revealed that retail sales rose by 0.6% in September, and revised upward the increase in August to 0.7%. According to the advance estimate, Americans spent $367.7 billion in September, the most in more than two years. This is relatively good news for the U.S. economy.
First, here's a chart showing some history: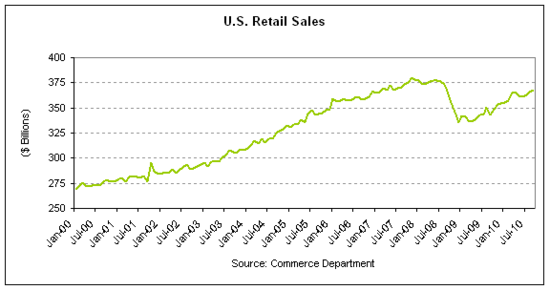 Retail sales had dipped slightly in May and June, but began increasing again ever since. Of course, they still have a little further to climb before making it back to their 2007 high of $380.0 billion. But they were much higher in September than their December 2008 low of $335.6 billion.
The progress was pretty much across-the-board. Here's how various sectors within retail fared from July through September: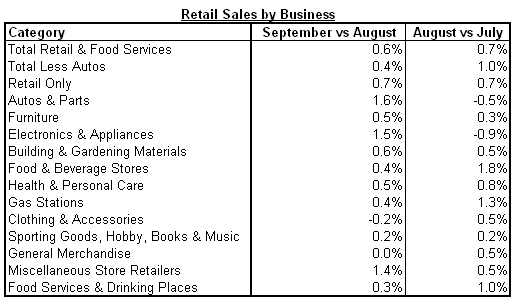 You can see that autos and electronics did particularly well in September, though that's partially due to rebounding from declines in August. Of these major industry segments, only retail clothing sales declined, by 0.2%.
As the trend of increasing retail sales continues, it indicates more confidence on the part of the American consumer. That's an essential component to an economic recovery. Lackluster sales have been holding business back from hiring more workers, which has kept the unemployment rate high. As that demand returns, so will jobs.