Pop in Mortgage Applications Implies a Rebound for Home Sales
After plummeting with the expiration of the home buyer credit in April, home sales might be gaining steam. For the second straight week the Mortgage Bankers Association reports an increase in applications for purchases. And during the most recent week, ending October 1st, they rose by an impressive 9.3%. That's the biggest increase since the last week in April -- when Americans were rushing to take advantage of the credit.
Let's start with a few charts. First, this shows purchase applications since April, the credit's last month: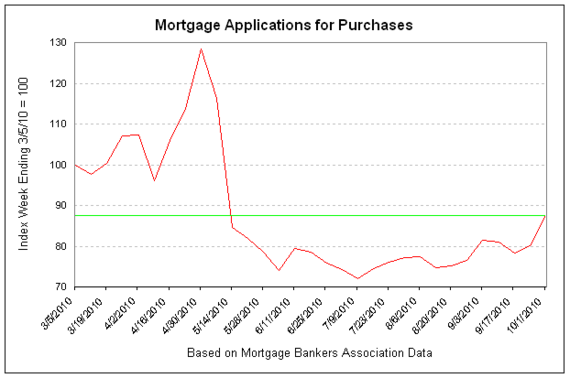 It's pretty easy to see that the most recent week had the highest number of purchase applications since the week ending May 7th -- just after the credit expired. Of course, you can also see quite clearly that purchases have far to go before they reach their April peak.
This point becomes even more significant if you look back further. Here's a chart from 1990: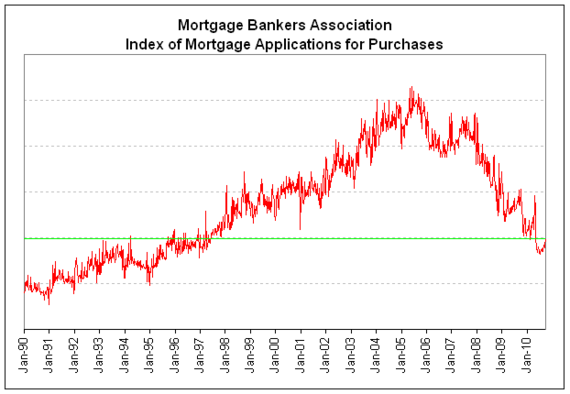 So home sales may be rebounding somewhat, but they're still extremely low on a relative basis. Even after increasing by more than 10% in the past two weeks combined, purchase applications remain at 1997 levels.
It's also interesting to note that this rebound has come in large part from Federal Housing Administration purchase applications. They rose by 17.2% while conventional purchase applications only rose by 3.6%. The FHA has been responsible for a large portion of the sales over the past few years, as further explained here.