Pending Home Sales Rise Again in August
Pending home sales increased in August for the second straight month. They rose by 4.3%, according to the National Association of Realtors. But compared to a year earlier, pending sales were down 20.1%. So pending home sales still remain very low on a historical basis, as they slowly rise from the drastic plummet sales took when the home buyer credit expired.
Here's a chart showing the NAR's Pending Home Sales Index: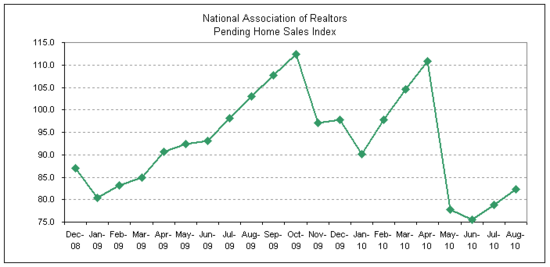 You can see that there's been a pretty consistent rise for the past two months. But the index value in August was still the second lowest on this chart prior to the expiration of the buyer credit. So it's pretty clear that sales remain at a very depressed level.
How might this pending sales data reflect final sales in coming months? It's hard to know for sure, but it you assume that sales in September will grow by the same amount as pending sales did in August, then here's how existing home sales would look: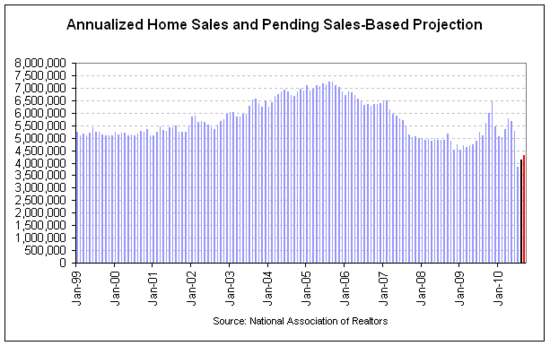 That last red bar is the estimate. This growth would imply that existing sales will rise to a 4.3 million annualized pace. That's certainly better than they were in July and August, but still worse than any time before that in more than a decade.
Finally, it's interesting to note which regions are showing the most growth in pending sales. The leaders for August were the West and South, both of which saw pending sales grow by more than 6%. The Midwest's growth was less aggressive right around 2%, while pending sales actually declined in the Northeast by 3%. This appears to indicate that buyers are continuing to be lured into purchasing distressed properties, as regions in the West and South have the highest concentrations of defaulted properties in the U.S.