New Home Sales Rose 6.6% in September, but Remain Low
The lukewarm news for the housing market continued today as the Census Bureau announced that new home sales increased by 6.6% in September. That follows a virtually flat month of sales growth in August. While last month's rise might sound significant, home sales remained at the annualized pace of just 307,000 last month. That's lower than in June, and remains below any month's pace in history prior to April.
Here's a chart on new home sales since 2000: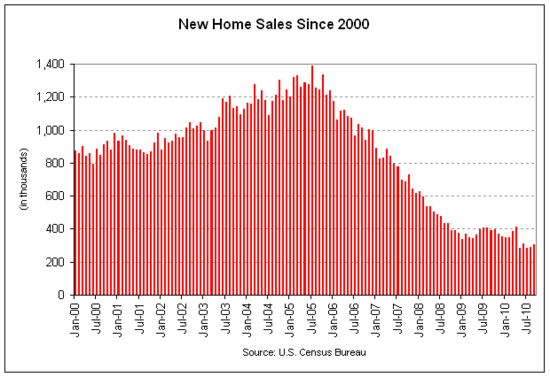 You can see just how low the numbers remain. It's possible, however, that the foreclosure delays could help new home sales. If freezes cause existing home inventory to grow more slowly and make buyers weary about purchasing distressed properties, then new home sales could gain market share. But it's unclear just how big of an effect this would have on new home sales. We could begin to see some influence next month.
Additional new home sales are both wonderful and terrible. Although they may create construction jobs, they also cause already swelling home inventory to take longer to sell off. That will make it harder for prices to recover.