Leading Indicators Continued to Rise in September
The U.S. economy should continue to expand slowly in coming months, according to the Conference Board's Leading Economic Index. It rose in September for the third month straight, by 0.3%. In July and August the index increased by 0.2% and 0.1%, respectively. Looking at the LEI's components more deeply is revealing.
But before that, here's the overall chart: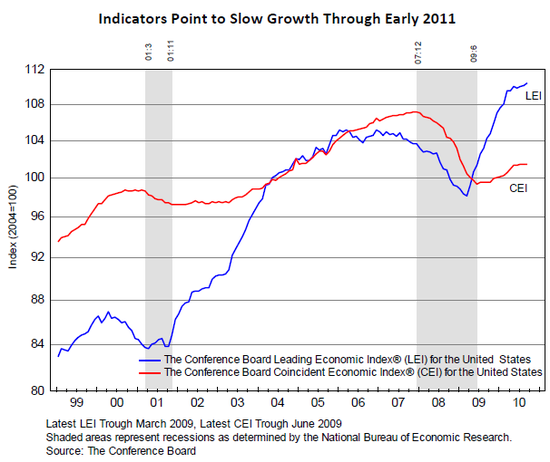 You can see that the LEI (Leading Economic Index) hit a new high in September. Although it isn't rising as aggressively as it was last year, it continues to slowly climb.
There might be some cause for concern about the mix of how the LEI components are faring, however. The worst influence came from supplier deliveries, which pulled down the net index value by 0.31%. Next worse was building permits, which subtracted 0.15%. Together, those indicate firms aren't sensing much consumer demand and the new construction market continues to struggle. These will factors may continue to constrain job growth.
On the positive side, however, unemployment claims saw a big reversal in September compared to August. Last month, the measure added 0.21% to the LEI, while it subtracted 0.19% in August. But the biggest positive factor continues to come from interest rates, which increased the LEI by 0.26%. The money supply also added 0.18% to the index. This is a little disappointing, because it means that .44% of the LEI was mostly due to Federal Reserve policy, rather than actual private sector progress. And without that influence, the LEI would have declined by 0.2% overall.