Home Seizures Exceeded 100,000 in September
The big foreclosure mess that began in late September doesn't appear to have had much effect on the month's foreclosure activity. September's bank repossessions rose to their highest level yet, exceeding 100,000 in a month for the first time, according to foreclosure tracker RealtyTrac. The firm's total measure of foreclosure activity which includes default notices, auctions, and repossessions rose by 2.5% during the month to 347,420. Considering the trouble banks have gotten themselves into with foreclosure documentation, however, big numbers aren't likely to continue in October.
But let's look at September's data a little more deeply. First, here's a chart showing the three sorts of foreclosure activity back five years: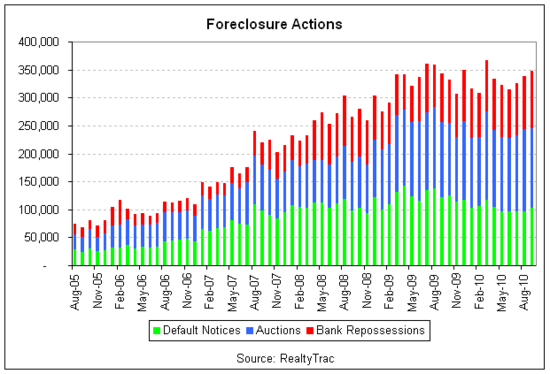 You can see that overall activity was quite high in September. It's easier to see how each type of activity changed with this chart: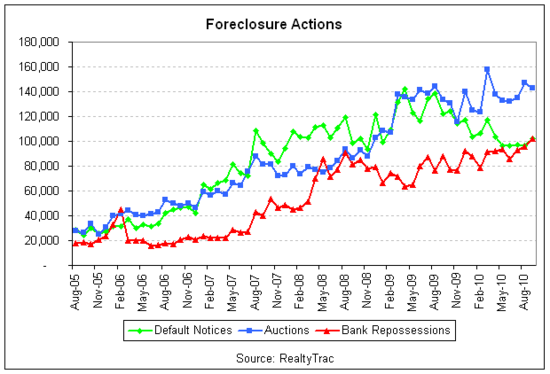 The big trend here is with bank repossessions. They have been rising pretty steadily for some months. In September, they ticked up 7.1% to 102,134. Meanwhile, default notices increased in September by 6.1% after remaining flat all summer. Auctions declined slightly, by 2.8%.
So which states had the most bank repossessions in September? It was the usual suspects:
Remember, these are just repossessions, so it's pretty staggering to imagine that one in every 268 homes in Nevada were taken over by banks in September alone. The month-over-month and year-over-year increases are also pretty incredible. Banks were definitely ramping up their seizures.
But that's not likely going to be the case in October. State attorney generals are suing banks due to document discrepancies. Consequently, most big banks have halted foreclosures temporarily. The problem is serious, and grimmer estimates think that foreclosures could now be delayed for a year or more as banks struggle to fix the problem. So the RealtyTrac report should look very interesting, and quite different, next month.