Home Sales Up 10% in September
The home buyer credit hangover is beginning to wear off. Existing home sales rose 10% in September to an annualized pace of 4.53 million, according to the National Association of Realtors. While the housing market certainly welcomes any good news right now, the increase is relatively modest. Sales remain at a depressed level on a historical basis, and this progress could be in jeopardy in October as many banks create more uncertainty in the market through foreclosure freezes caused by documentation errors.
Let's begin with a chart of historical home sales: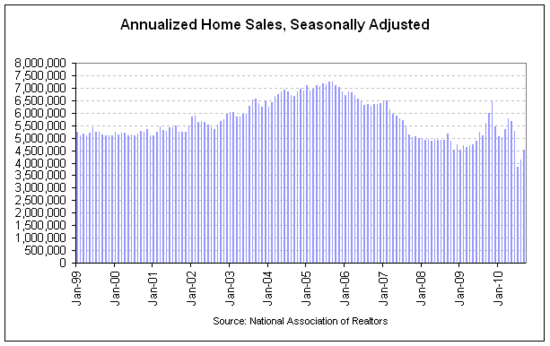 As you can see, a pace of 4.53 million existing home sales isn't particularly impressive. If you exclude July and August, September's tally matches the lows shown on the chart in November 2008 and January 2009. So it's a little hard to get excited about September's sales, though they are certainly stronger than those the prior few months.
Despite the increase in sales, the inventory of homes was quite high in September, though it declined by 1.9%.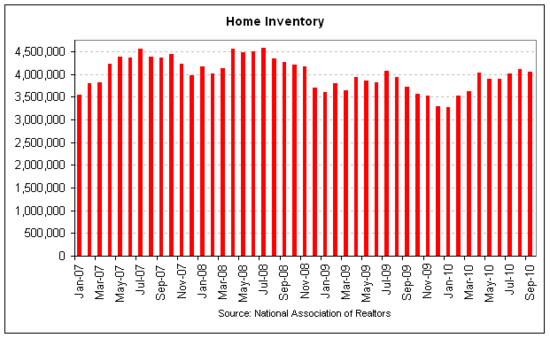 At 4.04 million inventory is actually higher than last month's initial estimate for August, which showed a decline to below 4 million homes. Instead, inventory rose to 4.12 million.
These inventory levels are putting some pressure on home prices. The median existing home price fell 3.3% to $171,700. That's the lowest since March, effectively erasing most of the spring's rise in prices due to the home buyer credit. The median price peaked at $183,000 in June.
Home sales have now increased for two months straight, but it's unclear whether October will follow this trend. Potential home buyers may be nervous to pull the trigger until banks sort out their documentation and procedure problems that caused several to halt foreclosures. So even if home sales have further to rise before hitting a stable rate, the banks' mistakes may cause a hiccup in buying that delays its ascent.