Home Builders' Confidence Rebounds in October
The foreclosure documentation mess hasn't created much pessimism among home builders in the U.S. For the first time in five months, the National Association of Home Builders/Wells Fargo Housing Market Index (HMI) increased in October. It rose to 16 this month from 13 in September. That's the highest it's been since June -- shortly after the home buyer credit expired. Why are builders more optimistic?
First, here's the chart to provide some perspective: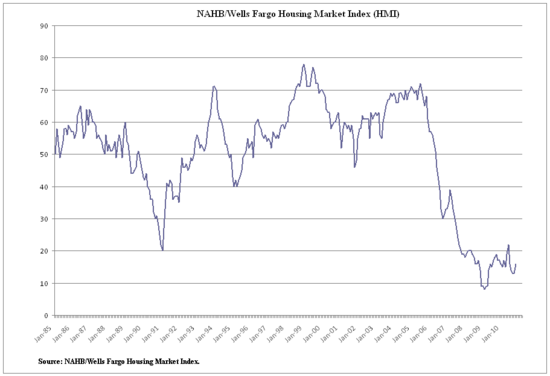 It's pretty clear that despite October's increase, sentiment still remains very low. Still, any increase in optimism regarding the housing market is a little surprising right now. The industry got another dose of poison this month when banks began halting foreclosures due to documentation problems, which cast doubt on the validity of their process for providing mortgages.
The NAHB doesn't appear to see that as making matters worse for builders. In fact, the organization says that builders are seeing more interest on the part of Americans. "The new-homes market is finally moving past the lull that occurred when the home buyer tax credits expired and economic growth stalled this summer," says its Chief Economist David Crowe.
In a sense, the foreclosure mess could actually be helping home builders. It has caused uneasiness among potential buyers surrounding foreclosed homes. Instead, more may believe that new construction is a safer route than buying a distressed property. Demand may be shifting in builders' favor.
While this might be good for construction jobs, it would be bad for the housing market. Consumers must be convinced that it has really hit bottom before home prices can confidently begin to rise again. For that to occur, the inventory of defaulted properties needs to decline through purchases. The new foreclosure crisis has made that impossible for the time being.