Employment Rose in 39 States in September
Although more jobs were lost in September, employment actually improved in most states. The Bureau of Labor Statistics' latest state unemployment report indicates that 39 states had more employed workers in September than in August, while 11 states had fewer. That's significantly better than the month-over-month change in August, when just eight states gained workers and 42 had fewer. Some state job markets continue to improve more than others, however.
Although states generally had more workers in September, only 23 saw their unemployment rates decline compared to August. Meanwhile the rate rose in 11 states and was flat in 16. Compared to a year earlier, 29 states had a lower unemployment rate, while 16 had a higher rate. Five were unchanged.
The biggest step backwards was in West Virginia, where the unemployment rate rose by 0.4% to 9.2%. That was still below the national average of 9.6%, however. Three other states, Louisiana, Arkansas, and Maryland all saw their rates increase by 0.2%, though all also remained below 8%, well beneath the national rate.
The most improved award goes to Massachusetts. Its unemployment rate declined by 0.4% to 8.4% in September. Rhode Island, Maine, and Alabama also improved significantly, by 0.3%.
That decline by Rhode Island drove the only shift in ranking among the five states with the highest rates of unemployment, with it moving from fourth to fifth. Here's that list of the ten worst: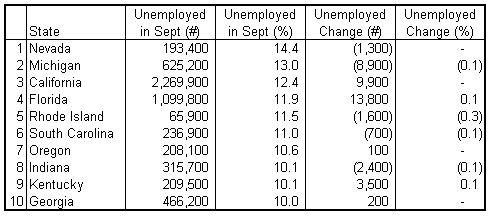 You can see that Nevada remains the worst at 14.4% unemployment. The state's number of unemployed workers actually declined in September, but not enough to cause its rate to tick down. Michigan also had fewer jobless residents, and saw its unemployment rate decrease slightly as a result. California and Florida each had more unemployed workers, though Florida's jobless population increased enough to cause its unemployment rate to rise to 11.9%.
The best states remained largely the same as well. North Dakota, South Dakota, and Nebraska all had sub-5% unemployment rates. Vermont and New Hampshire were next best, accounting for the only other states with unemployment rates below 6%.
Here's the map from BLS that provides a visual representation of this month's unemployment data: