ADP Report Shows 2010 High for Jobs Lost in September
This Friday, the government releases its official unemployment data for September, but ADP provides a sneak peak on what to expect today. It isn't good news. The company that specializes in payroll services says (.pdf) that 39,000 private sector jobs were lost last month. That's the most it has reported lost in its initial estimate since December 2009. This likely foreshadows a grim report later this week from the Bureau of Labor Statistics.
First, this report came in way below expectations. Economists predicted around 20,000 jobs would be added. Instead, 39,000 were lost. They weren't even close.
But how might the ADP report relate to what we learn on Friday from BLS? There tends to be some correlation. Although the numbers vary rather widely, big moves tend to occur in similar directions. Here's a chart that shows this with two separate axes, the left vertical axis for BLS and the right for ADP: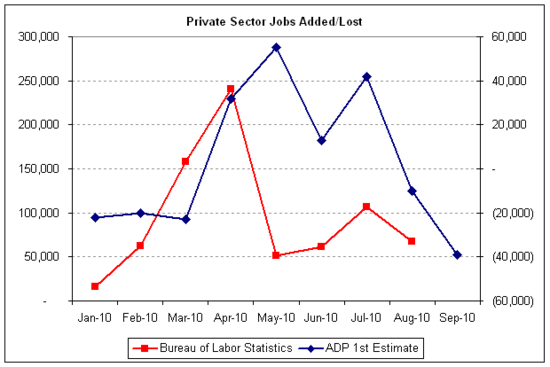 It's pretty easy to see the correlation here. While not perfect, it certainly appears to imply that BLS will also report fewer private sector jobs added in September than in August. This is ADP's worst first estimate of the year, so it's certainly plausible that BLS could provide the weakest private sector hiring number of 2010 as well. If it does, then it could also be the first report of private sector jobs lost this year.
A very bad BLS report on Friday has a few political implications. First, it will be the last unemployment reading before midterm elections. If it's also the worst of the year, then that will likely further damage Democrats chances. Second, it will also be the final jobless number before the Federal Reserve's next meeting in November. So it provides even more certainty to the view that the Fed will take more aggressive action to loosen monetary policy in its November meeting.