10 Percent of America Knows That 95 Percent of America Got a Tax Cut
When President Obama came into office, he faced a steep recession and an indebted public. This posed a delicate challenge for tax cut advocates. If you let indebted families and businesses keep more tax money in a balance-sheet recession, they'll use the money to pay off debt rather than buy new things to get the economy rolling.
So the White House tried to trick Americans into spending. Rather than write rebate checks we might forward to credit card companies, the administration designed the $100 billion Making Work Pay tax credit so that it would withhold less money from our paychecks. This would have the effect of making us feel richer. Indeed, we were. Families got up to $800 a year from the government with MWP. The hope was that folks would be so happily surprised by the cash that we would reward our happiness with a jaunt to the mall.

As the New York Times' Michael Cooper cleverly puts it, the administration succeeded in tricking Americans ... not into thinking that we were richer, but into thinking that there was no tax cut. According to a recent Times poll, fewer than 10 percent of Americans remember the $100 billion tax rebate. Behavioral economics went from nudging to barely touching.

Today, the White House is seen as a monstrous beast plotting a draconian tax hike on small businesses rather than an administration that passed $200 billion in tax credits for just about every American with Making Work Pay and the alternative minimum tax patch (which probably would have happened in any administration). Here's a list of all the personal tax cuts in the Recovery Act, AKA the stimulus, with grades from the Tax Policy Center: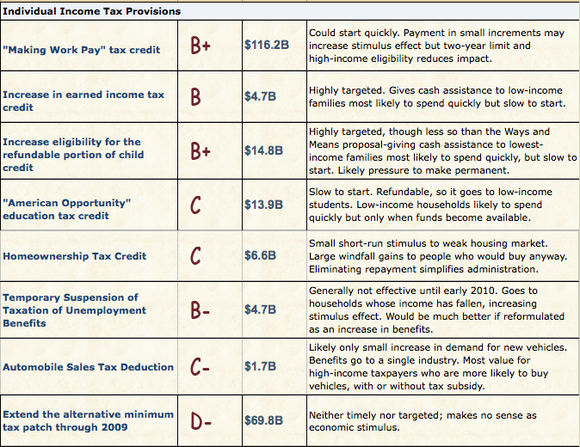 Re-reading TPC's evaluation of the MWP credit, I'm reminded how daunting a challenge it was to make Americans spend money in 2009 and 2010. On the one hand, macroeconomic theory says stimulus has the biggest impact when you give cash to the cash-needy. On the other hand, in 2009 the cash-needy needed cash not to spend, but to pay back debt. The bottom quintile had the lowest pre-recession savings rates. America's household debt/income ratio reached 145 percent in 2009.

In the long run, we wanted homes to return to financial sanity. In the short run, we wanted to delay or mitigate the reckoning with cash giveaways.