Treasury Mortgage Modifications Continue to Wind Down in August
The Treasury's effort to prevent foreclosures through its Making Home Affordable Program (HAMP) continued to slow in August. The month's report (.pdf) indicates that just 17,878 new trial modifications were started, the lowest tally so far. Moreover, only 33,342 loans were made permanent, which is the fewest since November. Meanwhile 52,908 modifications were canceled -- more than the month's new trial and permanent modifications combined. Although foreclosures continue to occur at a very high rate, the program appears to be winding down.
Here's the chart that tells the story: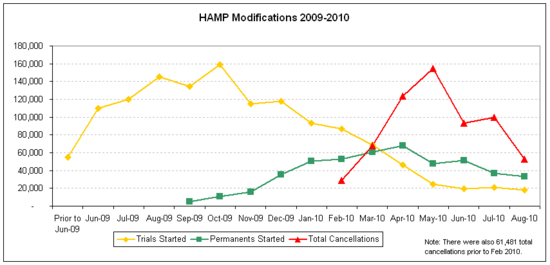 The decline in cancellations might look promising. But considering that new loans to the program have been so low over the past several months, high numbers of cancellations couldn't continue indefinitely. At this point, the number of cancellations total 682,659, while the total number of active permanent modifications is just 448,937. That means there are 1.52x as many canceled modifications as those made permanent. This multiple is actually up from July, when it was 1.49x. Put another way, 51.2% of trial modifications have been canceled through August, compared to 48.2% in July.
At this point, HAMP appears to be withering away. But new provisions that require servicers to consider principal reduction and deferrals for unemployed homeowners may begin to be felt later this year. The unemployment-driven program went into effect in August, but does not appear to have significantly affected the month's modifications. The principal reduction program will be implemented in October, so it may begin to have an impact this winter.